SPOTLIGHT ON: Historic Homes
By Christine Bruzzese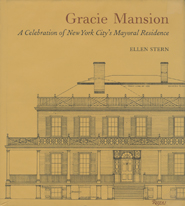 New York may be a city of skyscrapers and other commercial buildings, but brownstones, row houses and other historic homes can be found here. This article features some resources in the City Hall Library on the topic of historic homes.
Gracie Mansion: a Celebration of New York City's Mayoral Residence by Ellen Stern presents a verbal and visual chronicle of the traditional residence of New York City Mayors and their families. Background on the construction of the house, originally the country residence of Archibald Gracie, built in 1799, is provided. The book then goes on to chronicle the development of Gracie Mansion as the Mayoral residence, with the LaGuardia family, being the first occupants in 1942. Recollections of residents and employees are given along with description of renovations over the years. Photos and illustrations of the mansion's interior and exterior and related subjects enhance the text. The foreword was written by Mayor Michael R. Bloomberg.
The Villard Houses: Life Story of a Landmark by William C. Shopsin and others tells the story of the row houses located on Madison Avenue behind St. Patrick's Cathedral. Completed in 1886, with additional work finished in 1909, the houses were designed by the architectural firm of McKim, Mead & White with interior ornamentation by Louis Comfort Tiffany among others. Subsequent remodeling efforts as well as changes in the surrounding neighborhood are discussed. Numerous photos and illustrations are provided.
Historic Houses in New York City Parks was prepared by the New York City Department of Parks and Recreation and the Historic House Trust of New York City in 1989 with a revised edition in 1992. This booklet describes sixteen historic houses located in New York City parks in all five boroughs.
Landmark Designation and Historic Designation Reports from the New York City Landmarks Preservation Commission, vertical files and other materials may also be of interest to the researcher.
---
For more info on the City Hall Library, please visit our website.
To unsubscribe please go to this link:
https://www.nyc.gov/portal/signin.jsp
Comment on this news service:
http://www.nyc.gov/html/misc/html/news_feedback.html
PLEASE DO NOT REPLY TO THIS MESSAGE!