SPOTLIGHT ON: Ellis Island
By Christine Bruzzese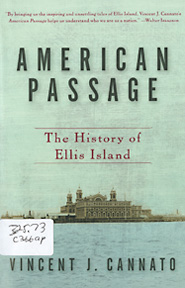 Ellis Island was the entry place for more than 12 million immigrants from January 1892 to 1924. The ancestors of many New Yorkers and other Americans arrived at Ellis Island to begin new lives. Today, visitors can tour the museum and other restored buildings. In honor of Immigrant Heritage Week, April 17-24, 2012, this article features some resources on Ellis Island that can be found in the City Hall Library.
American Passage: the History of Ellis Island by Vincent J. Cannato chronicles the history of Ellis Island. The author discusses the early days of Ellis Island as an immigration center, how it expanded, reforms promulgated in the early 20th century, decline of Ellis Island and revitalization as a national monument and museum in the late 20th and early 21st centuries.
Ellis Island Historic District was prepared by the New York City Landmarks Preservation Commission in 1993. This report explains the reasons for designating the Ellis Island area as a Historic District. Included are history of Ellis Island, discussion of the various buildings and reasons for designation. Many photos and illustrations enhance the text.
Keepers of the Gate: a History of Ellis Island by Thomas M. Pitkin tells the story of the administration of Ellis Island from 1892 to the 1970's. The author focuses on the work of the commissioners of the immigration center. Issues discussed include inadequate facilities for processing new immigrants, protecting immigrants from abuse, deportation of those deemed unfit to live in the United States, and controversies over limiting the number of immigrants especially after World War I.
Consult vertical files and other resources for further information on Ellis Island, immigrant history and related topics.

---
For more info on the City Hall Library, please visit our website.
To unsubscribe please go to this link:
https://www.nyc.gov/portal/signin.jsp
Comment on this news service:
http://www.nyc.gov/html/misc/html/news_feedback.html
PLEASE DO NOT REPLY TO THIS MESSAGE!