When 150 exquisite but neglected original renderings of the architectural details of New York City parks were donated to the Archives, staff conservators immediately brought them to our laboratory for intensive care.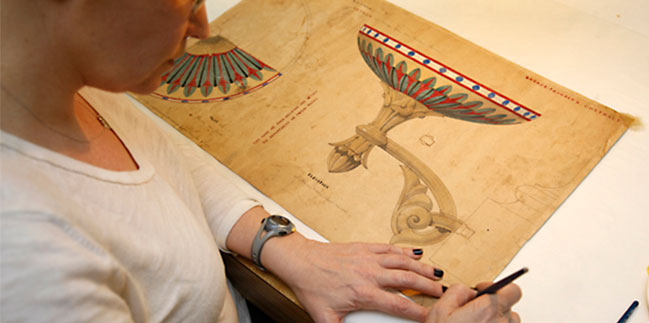 Established in 1977, the well-equipped laboratory and its trained staff provide a stable environment for the Municipal Archives' collection to ensure its long-term preservation and accessibility. Conservators perform complex treatments such as the removal of pressure-sensitive tapes, the reduction of stains, the repair of broken bindings, and mending water-damaged papers using the leaf caster, ultrasonic welder, cold-suction table and other specialized equipment. They also conduct routine surface cleaning, mending, and construction of archival-quality enclosures to extend the useful life of a record by mitigating environmental risk factors.




The conservation unit is funded through a combination of city funds and outside grants. Recent projects include: humidification and flattening of nineteenth-century felony prosecution records; lining and paper repair of the original drawings of Washington Square Park; leaf-casting of mold-damaged pages from the Archives' collection of Colonial era manuscripts; re-housing of cracked or broken glass plate negatives; and the production of large portfolios for the re-housing of oversized architectural drawings of the Brooklyn Bridge and the city's piers and parks.