Annual record of property assessment.
The City has always relied on revenue from property tax collections. Consequently, tax assessment records were well-maintained. They record the owner, or occupant, of the property, a description of the property (dimensions of the lot and building), and its assessed valuation. They are particularly useful for dating structures prior to establishment of the Department of Buildings (in 1866 for Manhattan and 1898 for the other Boroughs).
Third Ward (Manhattan) Map, 1858, plate 4. This plate shows the blocks west of Greenwich Street, from Dey to Barclay Streets. The irregular lines outlined in blue at left are piers along the Hudson (North) River.
Collection: Assessed Valuation of Real Estate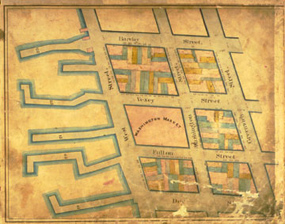 Tax Assessment holdings, by Borough:
Manhattan: 1789-1978/79
Brooklyn: 1866-1974/75
Queens: 1899-1987/88
Bronx: 1897-1961/62
Richmond: 1899-1978/79
.
(Assessed valuation information for some Richmond, Kings, and Queens County towns prior to consolidation in 1898 can be found in the "Old Town" collections).
COLLECTION STATUS:
All assessment ledgers for Brooklyn and Manhattan prior to 1900 have been microfilmed. Post-1900 Brooklyn and Manhattan assessment ledgers, and all Queens, Bronx and Richmond assessment ledgers, are stored off-site.