New building and alteration applications (including plans) for Manhattan buildings (Blocks 1-968 only); Manhattan Borough application docket books, 1866-1959.
"It is intended that the building shall be strictly
fire-proof. . . " Cass Gilbert, architect, to Isaac A. Hopper, Supt. of Buildings, September 22, 1905.
Click on Image for Close-Up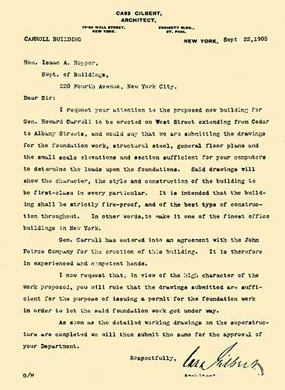 Collection: Department of Buildings folder for 90 West Street, Manhattan, Block 56, Lot 4 (New Building application no. 1376 of 1905).
The "docket books" in this collection provide essential information (architect, dimensions, date built, etc.), in summary form, about every building constructed or altered in Manhattan from 1866 to 1959. They are frequently the only resource for information about buildings that have been demolished.
Until the late 1800s, middle and upper-middle class New York City families were accustomed to living in single-family houses, typically "brownstone" or townhouse-type buildings. At that time, apartments were for poor people. In order to attract middle class families to new apartment buildings, developers offered amenities such as bathrooms, elevators, central heating, and servants' rooms. These types of apartment houses were classified in the Building Department docket books as "French Flats." This term was intended to evoke the grand apartment buildings then being built in Paris. The "Dakota" apartments on West 72nd Street and Central Park West is one of the most famous of these early "french flat"-style apartment buildings.
COLLECTION STATUS:
The docket books have been microfilmed. Patrons must request block and lot "folders" in advance.