Closed case files, docket books, newspaper clippings, investigations, correspondence.
The Municipal Archives holdings of records created by the District Attorneys of the five counties are closely related to (and often identical to), many of the criminal court series.
The New York County District Attorney collection is the most extensive. It consists of closed case files, from 1895 through 1980 and the related "record of cases," a.k.a. docket books which serve as a name index to the closed cases. Other series include the newspaper clipping scrapbooks, 1882-1940 (with gaps), and official correspondence, 1898-1937. The 1943-1955 Carlo Tresca and the 1936 "Lucky" Luciano closed case files are maintained as separate collections with their own finding guide.
The Kings County District Attorney holdings comprise closed case files 1940-1945; and 1965-1971. The "Murder Inc." investigative files from the 1940's are maintained as a separate collection with its own finding guide.
The Bronx County District Attorney collection consists of closed cases from 1967 through 1971 and the Queens County District Attorney case files date from 1971. The Bronx County files on Bruno Hauptmann, 1926-1936, and the Queens County Alice Crimmins case, 1966, are maintained separately.
Click on Image for Close-Up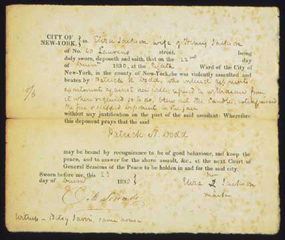 Eliza Jackson vs. Patrick Dodd, Assault and Battery, December, 1830. Collection: Police Court Cases Dismissed, 1830.
Also see the New York County Court of General Sessions Grand Jury Indictments, 1879-1893
COLLECTION STATUS:
The New York County District Attorney indictment files, 1790-1879, the "record of cases" docket books, 1895-1980, the newspaper clipping scrapbooks, and the official correspondence have been microfilmed by the Municipal Archives with assistance from the National Endowment for the Humanities.