Proceedings, resolutions, minutes, accounts, petitions, correspondence of Dutch (New Amsterdam) and English colonial governments; New York City Common Council, Board of Aldermen, and City Council.
The Council is the city's legislative body. Its origins date back to the Burgomasters and Schepens of the Dutch period, and the Common Council during English colonial era. Re-named the City Council in 1938, its functions have remained essentially unchanged over three centuries.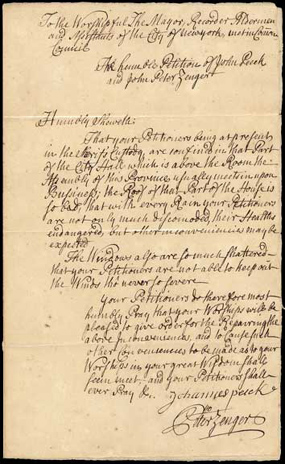 Petition of John Peeck and John Peter Zenger to the Mayor, Recorder and Alderman of the City New York, May 1, 1735. Collection: Common Council Papers, 1735.
The historical records of the legislative body reflect its ombudsman-like role. The council received citizen complaints and petitions; members were the source of contracts, the arbiter of disputes, as well as the regulators and law-makers.
COLLECTION STATUS:
The Minutes of the Common Council, 1676-1776 and 1784-1831 (published version, with index) are available in both hard copy and microfilm. The supporting papers of the Common Council, including petitions, correspondence, rough minutes, invoices, etc. from 1670-1831, have been processed and recently microfilmed with assistance from the National Endowment of the Humanities. The supporting papers are arranged chronologically; a folder-level finding aid is available. Post-1832 legislative body records are not completely processed; they are generally arranged chronologically, by committee; they have not been microfilmed. The printed proceedings of the legislative bodies, post-1832, have been microfilmed and are available in the City Hall Library.