MANHATTAN
1816, 1819, 1821 Jury Census. The City conducted a census on inhabitants in these three years for the purpose of determining jury eligibility. There is a census book for each ward; names are listed by address. Each entry records the name, age, and occupation of each head of household. The census also records the number (but not name), race, and citizenship status of the inhabitants within each household.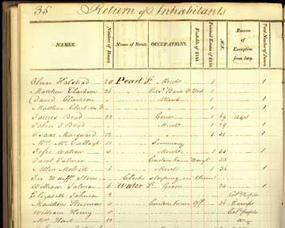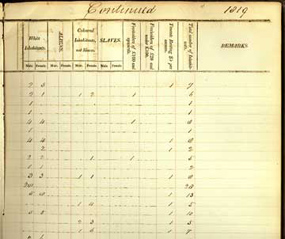 1819 Jury Census, Manhattan, Second Ward.
American novelist Herman Melville was born at 6 Pearl Street on 1 August 1819.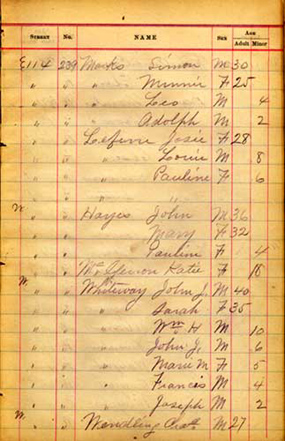 1890 Census entry for 239 East 114 Street, listing the inhabitants of the Marks, Lefevre, Hayes, Whiteway, and Wendling families.
Collection: 1890 "Police" Census
BROOKLYN
1855, 1865, 1875, 1892, 1905, 1915 New York State Census, Kings County. The State censuses are arranged according to Ward, and/or Assembly, and Enumeration District number. They record the name, family relationship, sex, age, nativity, occupation, and citizenship status of each inhabitant.
RICHMOND
1855, 1865, 1870, 1875, 1880, 1915, 1925 New York State Census, Richmond County. Similar information as Kings County Census.
COLLECTION STATUS:
All census records have been microfilmed and are available in the Reference Room. The Municipal Archives does not have a mail-order research service for census records and the microfilms are not available for inter-library loan. There are geographic (by Street name) indexes for the 1892 Kings County Census and the 1890 New York City (Police) Census (see booklets at front desk in the Reference Room). The other census records are not indexed.