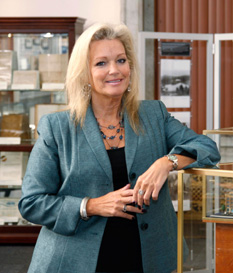 Eileen M. Flannelly
Commissioner
Welcome to the Department of Records and Information Services website.
For those of you new to our site and our agency, included among the various services we offer are:
City Hall Library - portal to both historical and contemporary information concerning City government. Learn more here.
Municipal Archives - preserves and provides public access to the city's government records throughout its four-hundred year history. Vital records, historic photographs, moving images, sound recordings, maps, architectural drawings, ledgers, and office records can be accessed or requested through this site. Learn more here.
Records Visitor Center - a public venue located in the magnificent Surrogate's Court building, this museum quality exhibit space was designed to highlight significant records from our numerous collections. Among the items you can see - Mayor's gifts (presented by dignitaries from around the world), photos dating back to 1858, the famous flag recovered from the rubble of Ground Zero, press conferences dating back to the early 1950's and so much more ... Watch our PSA on YouTube.
As part of our customer service and agency mission, our goal is to provide you with more access to the city's valuable materials. As such, I would like to share with you some major accomplishments:
May 2012 - opened the first ever New York City Records Visitor Center
April 2012 - launched the largest on-line collection of NYC historic photographs in the world! 870,000 photos are now available to view or purchase. Our online gallery is located here.
2011 - renovation of the City Hall Library. Includes computer terminals hosting the electronic card catalogue, several agency collections and links to frequently requested materials.
2009-2010 - inventoried the entire archive of the administration of former Mayor David N. Dinkins (over 2,000 cubic feet and nearly 1,000,000 documents on microfilm)
2009 - enhanced the Archives public area by providing searchable databases for all digitized collections via ten new terminals
2004 - 2008 - worked feverishly processing, preserving, and digitize our collections
2004 - automated City Hall Library card catalogue system and made it accessible through the World Wide Web
2003 - enacted Local Law 11 - making all Citywide agency reports and publications available to the public through the department website
Fostered by Mayor Michael Bloomberg, these are just a few of the accomplishments we have made, and we are just getting warmed up! We continue to add to our on-line photo collection, City Hall LIbrary catalogue system, and with the new Visitor Center are increasing educational and organizational programing.
We are very excited about all we have to offer and look forward to sharing it with you. Please browse our site, visit us in person or call to arrange a tour.