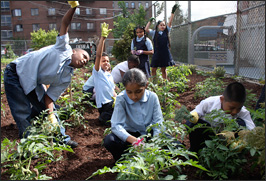 Our Plan includes numerous city programs that New Yorkers can tap into. We will connect communities with a number of existing City, state and federal programs in seven priority areas: energy efficiency, public space creation, park stewardship, stormwater management, air quality improvement, and landfill diversion. We will also align our brownfield remediation efforts with local visions for employment growth and redevelopment.
In each of these areas we want to provide organizations with financial and technical support to help them achieve community impact.
To engage all New Yorkers, we will launch an online platform, "Change by Us," to empower New Yorkers to self-organize around issues that matter to them. This site will ask , "How can we make our city a greener, better place to live? and connect New Yorkers to other residents, groups, and resources. Like GreeNYC, "Change By Us" will give citizens the information they need to take action in their own lives.
Greener Greater Communities will connect New Yorkers to each other and to these programs, so that together we create a greener, greater New York, block by block, neighborhood by neighborhood.