Name of Individual: Joseph Yu
Award Name: Workforce Investment Act - Adult and Dislocated Worker
Administered By: New York City Fire Department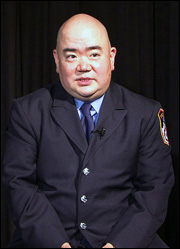 In 2009, Joseph Yu took a leap of faith and became an Emergency Medical Technician (EMT) Trainee with the New York City Fire Department (FDNY).  He left a desk job at an electronic publishing company to save lives on the streets of New York City.  "It was a drastic change from typing away in a cubicle to responding to gunshot wounds and cardiac arrests," said Yu.
Although the midlife career change was daunting, 42-year-old Yu saw no other choice.  There was no future for him at the publishing company, which had outsourced 75 percent of its work overseas.  The company eventually filed for bankruptcy during the recession.  Yu felt his livelihood was in jeopardy and immediately answered the FDNY's call for first responder trainees.
As a trainee, Yu entered the FDNY Emergency Medical Service (EMS) Academy for a rigorous training program that led to his eventual employment as a full-time FDNY EMT.  The intensive training program helped Yu to achieve better physical shape and to meet a group of supportive team members.
Yu loves the sense of camaraderie on the job, asserting that "90 percent of the job is basically relying on your partners and working as a team.  If you have good partners, the job is a breeze.  And I have been very lucky."  
Joseph Yu's current success as an FDNY EMT would not have been possible without the American Recovery and Reinvestment Act (ARRA), which funded EMT instruction for Yu and 76 of his classmates.
As a dedicated member of the FDNY EMS for the past two years, Yu feels a sense of gratification that he says was nonexistent in his previous position. He also enjoys the physical and emotional nature of the work. "I used to be in a dead-end job. But thanks to the stimulus, I now have a great job with FDNY, and I can envision a long and successful career here.  I hope to become a paramedic and eventually move up the chain of command to become a high-ranking officer."  Through the ARRA-funded training program, Yu acquired the necessary tools to plot out a rewarding professional trajectory and then actualize it.