Name of Individual: Diane Williams
Award Name: Senior Community Service Employment Program
Administered By: Department for the Aging (DFTA)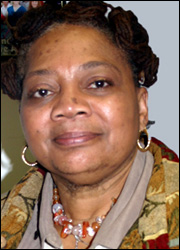 Diane Williams is a 57-year-old Bronx native who worked for both Cruise Link II LTD and the United States Postal Service.  With significant work experience and a Masters Degree in Urban Leadership, Diane took her job security for granted.  Unfortunately, the sudden economic crisis changed everything.  In December 2008, she lost her job as a mail clerk with the Postal Service and was forced to rely on Unemployment Insurance benefits for a short period of time.
While attending a career fair in Brownsville, Brooklyn, Diane learned about a Title V Program – the Senior Community Service Employment Program (SCSEP) – which offers part-time job training resources for low-income adults, ages 55 and older.  SCSEP is sponsored by the New York City Department for the Aging (DFTA).  Thanks to the American Recovery and Reinvestment Act, DFTA was able to serve and train over 355 seniors.
Diane was eager to brush up on her computer skills and learn about new career possibilities.  The SCSEP staff offered Diane the opportunity to be part of an innovative pilot training program for employment in the "green sector" with companies developing eco-friendly or eco-related products.  In October 2009, Diane was accepted for training as an energy auditor at Strive International.  During the 12-week training course, Diane learned how to educate businesses about energy efficiency. She audited all the commercial stores on 125th Street in Harlem, the Marriot Hotel in Albany, and the garage of the Taino Towers public housing development in East Harlem.
"I am excited to be on the cutting edge of President Obama's energy conservation program," said an enthusiastic Diane. "The intensive training was well worth the effort.  I obtained skills that prepared me for further professional growth.  I am grateful for this opportunity given to me by the Department for the Aging."
Today, Diane puts her training to work as a part-time independent consultant working for a privately owned solar company named Photovoltaic Products Plus.  Diane consults and provides free energy audits, issuing reports which outline the areas where consumers could switch their high energy consuming appliances to more energy-efficient products.  She also details the cost of making such changes and outlines the return on investment over time.  As she says, "My job is both educational and profitable. I enjoy helping consumers understand how they can contribute toward improving the planet by recommending and utilizing products that both save them money and change the world's energy consumption." 
In addition, since April 2010, Diane has been working for the Taxi and Limousine Commission's Office of Administrative Trials and Hearings Tribunal.  She also owns her own small business "Jovanni's Jewels Ltd." since 1987, which sells semi-precious jewelry.