Name of Individual: Angelo and Meyra Valentin
Award Name: Homelessness Prevention and Rapid Re-Housing Program
Administered By: NYC Department of Homeless Services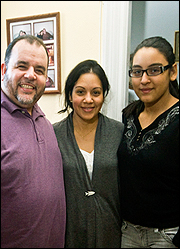 Angelo Valentin, 48 years of age, has been a member of the Teamsters Local 807 union for the last 16 years since 1996.  Born in Brooklyn, Angelo has been living in Queens for several decades.  Meyra Valentin came to New York City from Columbia with her daughter Susana eight years ago.  Angelo and Meyra got married in 2007.  Susana is now 13-years-old and will be applying to high schools next year in 2013.  She has an encyclopedic knowledge of the television show "Grey's Anatomy" and aspires to be a cardio-thoracic surgeon.
In the past, Angelo got plenty of work on the forklift, loading and unloading for events at the Jacob Javits Convention Center.  Then the economic slowdown, combined with a large multi-year capital construction project which interfered with events at the Javits Center, meant fewer hours for the Local 807.  As Angelo was assigned less work, so was Meyra.  She saw a slow but steady reduction in her hours at a neighborhood shop.  Meyra's employer cut her work schedule to less than ten hours a week.  Eventually, Meyra lost her job entirely.  Due to the decreased income, the Valentin family fell behind several months in rent.  They also received shut-off notices for their utilities.  
 
Approaching the holidays with an eviction looming, Angelo sought help at his local job center.  The job counselors referred him to Catholic Charities, an experienced social services provider selected to provide assistance through the NYC Department of Homeless Services' Homebase program.  Since 2005, Homebase has been helping families avoid homelessness through a web of services such as benefits advocacy, housing location, legal referrals, and flexible financial assistance.  The American Recovery and Reinvestment Act (ARRA) funds will account for over 62 percent of the program funding during the three years that ARRA was authorized. Without the infusion of ARRA funds, the Homebase program would have been drastically cut, just as many more New Yorkers found themselves in financial difficulty because of the recession.   
After assisting the Valenins in tackling their outstanding rent arrears with the help of a one-time payment from the NYC Human Resources Administration, the Homebase employment specialist sat down with the family to help Meyra find a job.  She was referred to an agency that recruits for airport-related positions.  According to Angelo, after they met with Catholic Charities, "They sent her over to an agency on the very same day and within one week they called her back.  She was rolling from then on," he said with a smile.
 
Although Angelo's hours at work have not yet increased, with Meyra employed with Hudson News at JFK Airport and the Homebase program paying off their remaining utility debt, the Valentin family enjoyed a bright Christmas and is hopeful about the future.  "Without the Homebase program," Angelo says, "I don't know where we would have been."