Name of Individual: Patrick Sheridan
Award Name: Transit Security Grant Program
Administered By: New York City Police Department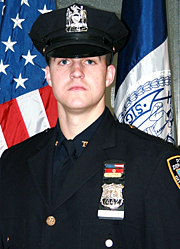 The American Recovery and Reinvestment Act (ARAA) Transit Security Grant Program allowed the New York City Police Department (NYPD) to hire 104 police officers to be assigned to the Transit Bureau to help with counter-terrorism efforts.
One officer who was hired under the grant program is Patrick Sheridan.  Patrick wanted to become a New York City Police Officer, while he was serving in the United States Marine Corps.  He served as a Corporal with the Third Battalion, Second Marine Division and was twice deployed in Iraq.  Patrick enjoyed helping people but wanted to serve closer to home and become involved with community-based service.  Patrick's family has a long history of service in the military followed by service in law enforcement.  Both his father and grandfather served in the United States Navy and then with neighboring police departments.  His father is a police veteran with 21 years on the force, and his grandfather retired after completing 20 years of police service.
After his military service was completed, Patrick was waiting to be hired by the NYPD.  Due to the weakened economy, it was uncertain when the NYPD would be able to hire more police recruits.  "The stimulus bill enabled me, in these tough economic times, to have a job and also provided for 103 others in my academy class to have jobs."    
Upon graduation from the Police Academy, Patrick was assigned to Transit Citywide Impact Task Force, and works out of the Canal Street subway station in lower Manhattan.  As part of the Transit Bureau's ongoing anti-terrorism efforts, Patrick has received specialized training in hostile surveillance detection, behavioral observation and suspicious activity recognition, and the operation of radiation detection equipment.  He is able to utilize this anti-terrorism training every day on the front lines and help in the NYPD's effort to identify, disrupt, and stop a terrorist attack in New York City.  "I like working in Manhattan and being part of the largest Police Department in the country."  Patrick looks forward to a long career with the NYPD.  "In the Marines, I learned a lot about explosives.  I would like to use that interest and experience to further my career in the NYPD by eventually becoming a bomb technician."