Name of Individual: Scott Sciortino
Award Name: Broadband Technology Opportunities Program NYC Connected Communities
Administered By: NYC Department of Information Technology and Telecommunications
(in collaboration with NYC Department of Parks and Recreation)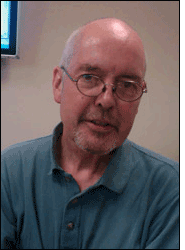 Scott Sciortino lived in New Jersey and Vermont before he moved to New York City about five years ago.  He aspired to write a book about busking, also known as street performing, in NYC subways.  A very creative person, he writes and also plays instruments like guitar and bass.  His professional life has been an eclectic mix.  With a degree in English Literature, he has been employed as a college instructor of writing composition.  He has also held positions as a landscaper and a bookseller.  Most recently, Scott worked as a part-time employee at a nonprofit organization.
Scott has searched for a full-time job for four years.  The process was frustrating.  He felt a victim of ageism in the current job market.  Scott learned of the Broadband Technology Opportunities Program (BTOP) through the program director at one of the NYC Department of Parks and Recreation's Computer Resource Centers (CRC).  He was eager to apply for the ARRA-funded position as a full-time coordinator.  He was excited to be hired. 
Now he has a good job with a livable wage and an opportunity to contribute to the CRC programs and its participants.  Scott continues to provide workforce training, job search information and services, as well as broadband access and technology training for community members on a full-time basis.  Thanks to ARRA, Scott has options.  He believes that his CRC and the surrounding community benefit from the BTOP programming.     
According to Scott, "Working with CRCs, as funded by ARRA BTOP grant monies, has been very rewarding.  I feel that I am helping not just the adults looking for work or seeking skills development, but also community teens by inspiring them to consider career opportunities that perhaps they didn't think were available to them.  When kids say "I can't go to school there, it's too expensive" or "That's not a possibility for me," I show them that it is not necessarily true and that they can think about it. The sticker price doesn't always matter for college; if you have the smarts, you can go.  But even without college, there are programs in NYC where you can learn skills to allow you to transfer into the workforce.  A young person can build skills using software such as "In-design" or "Photoshop" and become a really marketable employee."
In the future, Scott plans to continue to serve and promote the CRC program at his center, expand his own skill set around technology training, develop a college readiness program for youth for CRCs city-wide, and pursue his desire to publish his book on busking.