Name of Individual: Nelson Ramos
Award Name: Transit Capital Assistance - St. George Ferry Terminal Ramps Rehabilitation
Administered By: Department of Transportation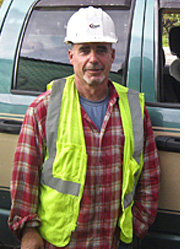 Nelson Ramos, a native of Staten Island, currently works at the nearby St. George Ferry Terminal Project.  The project is a $175 million Design-Build project to reconstruct pedestrian, vehicular, and bus ramps to the terminal building.  Undertaken by the Conti Group and URS Corporation and supervised by the NYC Department of Transportation, work on the project began in May 2010. 
In the summer of 2010, Nelson was brought on as a union laborer.  Previously laid off and was searching for his next job for over a year, Nelson was elated to get the call to return to work.  "I'm excited to be here, every day you come to work is a good day." 
This positive attitude, heard every day around the job, has infected others in his crew and breeds a spirit of hard work and commitment to producing a great product for future generations of Staten Islanders. 
A 23-year veteran of the industry, Nelson has worked on many other Conti jobs in the past, including the Manhattan Bridge and Newark Airport.  Back to work again, Nelson is enjoying the benefits of working, the paycheck, and the ease of not having to worry about how to pay the bills, medical benefits, and life's other necessities.  Instead, he now worries about the next big concrete pour. 
Nelson is glad to be a part of this stimulus-funded project and looks forward to the remaining years of work ahead at the St. George Ferry Terminal.