Name of Individual: Ralph Ramos
Award Name: Public Housing Capital Fund Recovery Grant (Formula)
Administered By: New York City Housing Authority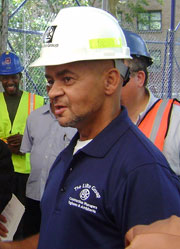 At 54 years old, most people don't usually think about reinventing themselves and embarking on a new career path.  But that is exactly what happened to Edenwald Houses resident, Ralph Ramos, thanks to the American Recovery and Reinvestment Act (ARRA) and the New York City Housing Authority's (NYCHA) Section 3 program. 
Ralph has lived at Edenwald Houses in the Bronx for more than a decade.  After working as a manager in a neighborhood supermarket for 25 years, Ralph's career as a manager came to an abrupt end when he was laid off. "I was the last one hired and the first one fired."
Ralph was unemployed for a year following his job loss.  Nothing was panning out.  Prospects were dim.  He knew that it would be increasingly difficult for him to find work given his age and his very specific skill set and experience.  Despite this, he remained positive and hopeful. 
Eventually, a friend told him about a Section 3 job at Edenwald Houses.  Section 3 requires public housing authorities and other recipients of U.S. Housing and Urban Development funds to target, to the greatest extent feasible, low-income people, and particularly public housing residents, for the jobs and economic opportunities generated by their operations.  The position of resident liaison was available during a period of ARRA-funded construction and renovation at the development.  Ralph was a perfect match for the position since he had a history of activism within the community, and he was hired.  His job at Edenwald Houses ended in April 2011.  But he was such a good employee that he was able to secure another Section 3 position at Marlboro Houses, where he currently works as an inspector on ARRA-funded repairs with the construction management firm, Liro Group.
According to Ralph, "This has been a great experience.  After being out of work for so long, to be employed again is a wonderful feeling.  It turned my life around.  I am almost certain that I'll move on to the next NYCHA job.  I have gained a lot in the construction industry.  I'm eternally grateful that I've learned something new."  Ralph said this is just the beginning for him and he encourages others who are out of work, "If you are community-minded, you can get far.   You just have to apply yourself and believe in yourself.  You can pretty much do anything you want to do.  Look at me."