Name of Individual: Aiwen Li
Award Name: Workforce Investment Act
Administered By: Department of Youth and Community Development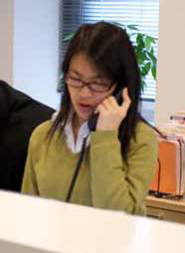 In July 2009, after arriving to this country less than a month earlier, Aiwen Li was enrolled in the Out-of-School Youth (OSY) program at the Chinatown Manpower Project, Inc.
As part of the program, Aiwen successfully completed the classroom training in October 2009.  She was an exemplary student, studying hard, completing assignments on time, and showing good leadership among her peers. 
After completing the classroom training, Aiwen was selected by the program to do her OSY ARRA internship at Borough of Manhattan Community College (BMCC) as a customer service representative.  At BMCC, Aiwen again took great initiative and demonstrated exemplary performance.  Besides improving her spoken English, Aiwen also learned a lot of office procedures and enjoyed her internship experience thoroughly.  Her supervisors, Ms. Delores Perkins and Mr. Patrick Dail, were very supportive and were full of praises for her.  She received an overall rating of 5 (the highest rating) for her mid-point evaluation and an overall rating of 4.9 for her final evaluation. 
When her internship ended in January 2010, Aiwen was hired as a paid employee, working part-time as a front desk customer service representative for the Continued Education Division at BMCC.  She worked there until the end of August 2010. 
Aiwen is now attending Baruch College full-time while working part-time as a front desk customer service representative for Baruch College's Office of Student Life.  The internship at BMCC gave Aiwen her first job experience and helped enhance her communication and interpersonal skills.  She is now a confident and experienced customer service representative at a CUNY college.  The internship and her current work at educational institutions are especially important to Aiwen as she intends to major in education.