Name of Individual: Baby Jeter
Award Name: Homelessness Prevention and Rapid Re-Housing Program
Administered By: Department of Homeless Services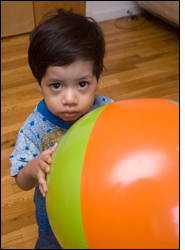 In August 2009, fourteen-month-old Jeter was hospitalized with what doctors initially thought was bronchiolitis, but was quickly discovered to be heart failure.  His health deteriorated rapidly and he was placed on the waiting list for a heart transplant.  Two weeks following the baby's admission to the hospital, his parents and three-year-old brother were evicted from their apartment.  His father had lost his construction job eight months prior, and the family fell into arrears, eventually losing the apartment where they had lived for more than four years.
The family was fortunate to have relatives to turn to for help, doubling up in a two-bedroom apartment where two other adults and two other children already were living.  Word came in November 2009 that a heart finally had become available.  With the transplant complete, however, the overcrowded apartment no longer was suitable.  The hospital transplant team feared that the overcrowding would place the baby at significant risk for infection that could possibly lead to his death.  Hospital staff reached out to the NYC Department of Homeless Services (DHS) to see if suitable shelter could be arranged, as the family had no other housing options.  DHS referred the family to the Bronxworks Homebase Homelessness Prevention and Rapid Re-housing Program funded with ARRA dollars.
Through intensive cooperative efforts between Bronxworks and hospital staff, the family was placed temporarily at a shelter close to the hospital, where the family had to return three times a week for Baby Jeter's appointments.  At the same time, Bronxworks Homebase was hard at work helping the family secure a suitable, affordable apartment as quickly as possible.
The family was notified the week before Thanksgiving that their application for a subsidized apartment had been accepted.  Baby Jeter, along with his parents and brother, moved in just in time to celebrate both heart and home.  "We certainly had a lot to be thankful for," said his dad.
Now more than two years later in February 2012, the family remains healthy, happy and housed in their apartment.  Jeter's health is continuing to improve, and he is now enrolled in an Early Intervention program supported by the NYC Department of Health and Mental Hygiene (DOHMH).  While his dad is still struggling to establish long-term employment, he is reaching out to the Workforce1 Center operated by the NYC Department of Small Business Services (SBS) for assistance with his ongoing job search. 
As the father explains, "We have needed public assistance, food stamps and Medicaid to help us through this difficult time.  But the rent is paid.  Our housing is stable.  My boys are doing well.  And now that my baby is stronger, I can focus more on finding full-time work.  Things are moving in the right direction!"