Name of Individual: Elder Joan M. Williams-Jarrell
ARRA Award: Communities Putting Prevention to Work: Category A-Obesity
Administered By: Fund for Public Health New York
New York City Department of Health and Mental Hygiene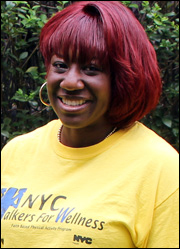 The Faith-Based New York City "Walkers for Wellness" program is bringing walking clubs and better nutrition to 119 faith-based organizations, representing more than 12,000 New York City congregants of many faiths. Three of these organizations are based in East Harlem, including Bethel Gospel Assembly/Beth Hark Christian Counseling Center. They started a walking club that meets twice a week either in a park across the street or inside the large church building during inclement weather. In addition, a New York City Department of Health and Mental Hygiene (DOHMH) presentation on the contribution of sugary beverages to obesity led the Center to adopt healthful new food policies, including reducing the availability of sugary drinks at all functions and increasing the water options in vending machines.
The Walkers for Wellness program activities in the church are led by Elder Joan M. Williams-Jarrell, who is an Associate Minister as well as the Executive Director of the Beth-Hark Christian Counseling Center. She is married to Elder Willie J. Jarrell, who is also a member of the church. She was tapped by the Senior Pastor, Bishop Carlton T. Brown, to be the champion for the program, because Bishop Brown saw the great potential of the program in improving the health of his congregation. Today, Elder Williams-Jarrell is personally grateful to the pastor for asking her to lead the program. She shares her personal story this way:
"Since starting the Walkers for Wellness Program, I have seen a tremendous improvement in my overall physical well-being. Through my participation in the various aspects of the program, I have become more conscious about reducing the amount of sugar-sweetened beverages I consume, and have learned how to incorporate fresh herbs as a salt substitute during meal preparation. Since incorporating regular walking into my lifestyle, I am sleeping better and have more energy throughout the day. The physical benefits have been fantastic! During a recent doctor's visit, I learned that I lost 9 pounds, my body mass index was lower by 2 points, and my blood pressure went from being borderline hypertensive (144/90) to being the lowest it has been in all of my adult life (118/66). Participating in the program has been a tremendous blessing!"
Like Elder Williams-Jarrell, other members of the congregation expressed their appreciation to DOHMH for offering them an opportunity that allows them to incorporate physical activity and nutrition into their spiritual lives.