Name of Individual: Loreen Gaines
ARRA Award: Homelessness Prevention and Rapid Rehousing Program
Project: Homebase Prevention & Diversion
Administered By: New York City Department of Homeless Services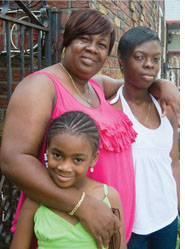 Just a few years ago, Loreen Gaines was working in the banking industry and contributing to her 401K retirement plan. When she lost her job and no similar positions were forthcoming, she soon went through her savings and could no longer afford her rent of $1,500 per month. She and her two daughters found themselves evicted from their apartment and living in a homeless shelter. Eventually, Gaines was able to find an apartment with transitional assistance from the New York City Department of Homeless Services (DHS).
As she left shelter, her housing worker told her that if she had any issues with her housing, or wanted any assistance or referrals, she needed to visit her local Homebase program, run by the Partnership for the Homeless, located in their Family Resource Center in East New York. The Homebase program in East New York, which would have been drastically cut without the infusion of ARRA funds, has enrolled nearly 1,000 households at risk of homelessness since 2009, preventing homelessness through case management and services such as benefits advocacy, housing location, legal referral, and over $200,000 thousand dollars in flexible financial assistance.
Gaines was very busy looking for work and seeking to improve her job skills. She found several temporary jobs while continuing to search for a permanent position, but eventually her rent exceeded her income and she fell behind. She came to Homebase with an eviction notice, and the staff assisted her in applying for a TANF-based rental subsidy and negotiated with the landlord in order to ensure that she and her children could remain in their apartment.
While participating in employment and training programs through the New York City Human Resources Administration, which oversees TANF, Gaines received a medical assistant certificate. She is currently an outreach worker for a medical service agency. Her eldest daughter, Janelle, is now 23-years-old and has started her first job as a paraprofessional in the public schools. Christina, 7, is enjoying her new weekly swimming lessons and will soon be enrolled in a summer school program.
In addition to helping her avoid returning to the shelter, Gaines especially valued the credit counseling services at the Family Resource Center. She learned how to use and understand her credit card for the first time, which helps her keep her finances balanced and her rent up-to-date.
Gaines believes that the Homebase program was vital for her and many like her in the community, stating, "If I didn't have [this assistance] I don't know what would have happened." She explains that the Homebase staff were there in her time of need and that they, "helped me to understand what it means to get up and move on."