Name of Individual: Chad Eberle
Award Name: Transit Capital Assistance - St. George Ferry Terminal Ramps Rehabilitation
Administered By: New York City Department of Transportation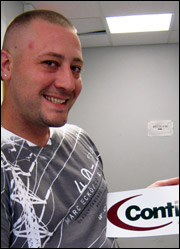 Chad Eberle has been in the construction industry for eight years.  As a graduate of Martin Luther King High School in Maspeth, Queens, Chad is also a longtime New Yorker.  From 2003-2010, Chad worked as a foreman for Cor-Con Painting. Though he was employed, Chad had little opportunity for advancement in this role.  He also had few opportunities to expand upon his skills in this position.
Chad heard of the American Recovery and Reinvestment Act (ARRA) on television, but he did not expect it to impact his life.  However, thanks to an ARRA grant awarded to the New York City Department of Transportation (NYC DOT) to help rehabilitate the bus terminal ramps at the St. George Ferry Terminal in Staten Island, he was hired as a superintendent for Petric and Associates.  Chad has been in this position for the company since May 2010.  
The St. George Ferry Terminal project is the largest ARRA-funded infrastructure project in New York State.  It consists of the rehabilitation of the elevated bridge structure at St. George Ferry Terminal, which is a large intermodal transportation hub.  The St. George Ferry Terminal in Staten Island links more than 65,000 daily commuters with the Staten Island Railroad, 20 New York City Transit bus lines, three parking facilities, and the Bay Street and Richmond Terrace bikeway.  The Staten Island Ferry is the third most popular tourist attraction in all of New York City attracting thousands of visitors.
The Conti Group of Edison, NJ is the General Contractor for this $175 million project.  URS Corp. is the Engineer of Record and a subcontractor to The Conti Group.  Petric and Associates is one of 27 subcontractors that has worked on the bus ramp rehabilitation already; NYC DOT expects a total of 59 subcontractors to work on the project by its completion.  The Conti Group was responsible for both designing and building the project.  According to Conti, construction has gone more smoothly because of this "design-build" arrangement – they designed the plans that they must then build.
The St. George Ferry Terminal project allowed Chad the opportunity to step into a managerial role.  With more responsibility and accountability, it challenged him in his field and provided him a chance to grow.  Chad is eager to build upon this experience and is considering business ownership in the future.  Working  at the St. George Ferry Terminal project will help him to achieve his goals.  As Chad says, "Keep it coming.  Funding for projects like St. George is good for the economy and my industry [construction].  It allows young people like me a chance to advance their careers in a time when we might otherwise not be able to because of the economy.  And since I'm earning more money now than I was in my old position, I could finally afford to buy my first home.  That makes me proud!"
In addition to the professional and personal benefits from this job, Chad points out that the ARRA-funded project enhances the economic stability and vitality of the neighborhood.  "I manage a crew ranging from 30 to over 50 men.  These men all purchase coffee, breakfast, lunch, and sometimes even dinner from local businesses," he explains.  "In addition, the work-vehicles are fueled at local service stations.  The contracting company rents property in Staten Island as a local storage yard for this project.  Many supplies are purchased from the local Home Depot, as well as from the local plumbing supply, a local electrical supply and other local businesses.  A local auto-parts store supplies the items necessary for my mechanic to keep our fleet of roughly 20 pieces of specialized equipment working properly. All of these purchases help generate economic activity, keep small businesses afloat, and create jobs for people in the community."
Plus, by demolishing, reconstructing and slightly shifting the position of the north bus ramp, the project has opened up a parcel of land for comprehensive redevelopment.  The proposed site occupies a prominent waterfront location near the ferry terminal, the local Richmond County Ballpark, open space with pedestrian walkways along the shoreline, and the Staten Island September 11th Memorial.  Chad comments, "There's great potential for what they can do here!"