Name of Individual: Shartel Dukes
Award Name: Workforce Investment Act
Administered By: Department of Parks and Recreation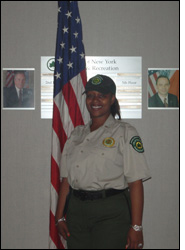 Shartel Dukes is a single mother raising three children. As a child, she used to sit in the basement of her uncle's funeral home watching him work. She saw what an important role he played in bringing closure and comfort to families with recently deceased loved ones in her Harlem neighborhood. She also saw the value of dedication and love for one's own profession.
Following in her uncle's footsteps, she started as a mortician at New York Presbyterian Hospital, where she was laid off in 2007. She later became a home health aide, a job which ended in July 2009.
Despite these setbacks, Shartel was undeterred. In August 2009, she accepted a referral from her NYC Human Resources Administration's case worker to be a Job Training Participant (JTP) at the Department of Parks and Recreation's Parks Opportunity Program (POP). POP is a transitional employment program providing unemployed New Yorkers with valuable work experience in the city's parks and recreation centers while participating in employment services, training and education geared to move them into employment. The Department of Parks and Recreation received funding in 2009 from President Obama's landmark stimulus bill.
In September, Shartel became a member of the Parks Enforcement Patrol, where she provides security services to the public at the Pelham Fritz Recreation Center. Since Shartel's arrival at POP, she has decided to take steps to re-enroll in college. Looking forward to working in the security field until she completes her four-year degree, Shartel knows that she "is going to do work that I like, and makes me happy, and that when I walk in everyday I'll be happy I'm there!"
Since completing the ARRA-funded transitional workforce development program (POP 2010) on March 13, 2010, Shartel has interviewed for a variety of positions in the healthcare and security fields.
Shartel's supervising sergeant says that while she was assigned to patrol the Pelham Fritz Recreation Center in Harlem, Shartel was one of the hardest working safety officers at her worksite. The sergeant praised Shartel's outstanding customer service skills and also noted that she provided security at special events, including the Macy's Thanksgiving Day Parade and the Annual Winter Jam.
Despite having worked for most of her life, it was in her role in security at Parks that Shartel discovered a true love of customer service and interacting with City residents. Shartel said, "I never really saw myself as the type of person to work with other people, but at Pelham Fritz I work with all kinds of people, the elderly, little kids who come to the center after school, and I love it. I get to talk to the seniors and the kids, and I know that they are happy to come into the center and that makes me happy." Her time in POP 2010 helped Shartel emerge from her shell: "I guess I like working with people more than I originally thought!"
As a mother to 3 children, ages 14, 7 and 3, it is important for Shartel to be both a provider and role model. She wants to find a balance between meeting the demands of being a working, young, single mother and pursuing higher education. Even though, as she said, "Everything that I thought wasn't going to happen to me, happened," she has maintained a hopeful outlook and is motivated to accomplish her goals.  With a positive recommendation from her supervisor and her newly acquired customer service skills, Shartel is confident she will be a success. She is continuing to work with POP to find employment.
Shartel's POP 2010 colleagues have secured positions in a variety of different fields, ranging from food service to building maintenance to healthcare to children's services. Many of these jobs provide a strong opportunity for advancement and start at more than $13 an hour, almost $6 higher than the minimum wage.  At organizations including Bowery Residence Committee, American Building Maintenance and others, POP 2010 graduates work closely with their surrounding community. Shartel is interviewing for similar positions and is excited to continue her career in providing services to New Yorkers.