Name of Individual: Kevin Charles
Award Name: Community Services Block Grant
Administered By: Department of Youth and Community Development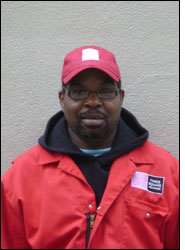 Kevin Charles is a 48 year-old father of a beautiful seven year-old girl, Shanice, living in East Harlem.
Before enrolling in both the nurturing fatherhood program, Dads United for Parenting (D-UP) and a job training program at Midtown Community Court, Kevin was actively looking for employment for over a year.  The Fatherhood Initiative, sponsored by the Department of Youth and Community Development, is a strengthening-families initiative that helps non-custodial fathers reconnect and re-engage in the lives of their children through individual/family counseling, parenting skills training, helping with visitation, college preparation and employment assistance. Through this program, Kevin completed a 14-week paid internship at St. Paul's Community Baptist Church, allowing him to gain the work experience and support to contribute both as a father and a provider for Shanice.  Kevin's success was made possible by the strong partnership between the staff at Midtown Community Court and Times Square Ink and his desire to actively participate in his little girl's life.
Kevin has been working for Times Square Alliance for approximately six months and he is thriving.  He has learned to assume new responsibilities that allow him to grow as a reliable and valuable employee. Kevin's current supervisor reports that he has shown attributes of a budding leader. When presented with this accolade, Kevin smiles at the recognition of his progress and attributes this growth to the time he spent working and learning with other fathers during his internship. Kevin would not have been able to secure this position had it not been for the positive internship experience that was made possible through ARRA funding. The internship experience provided Kevin with a solid foundation and a professional network that will grow with him as he moves forward in his career.
Kevin is able to share the success of his new job with his daughter: as clips of the ball dropping in Times Square were played on television following the ringing in of the New Year in 2010, Kevin was able to say with pride, "Look, that's where daddy works."