Name of Individual: Kirk Campbell
Award Name: Workforce Investment Act
Administered By: Department of Youth and Community Development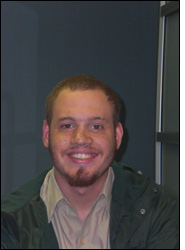 Kirk Campbell is a 22-year-old court-involved youth who resides in a homeless shelter. Trying to get his life back on track, he is now enrolled as a student in a Harlem Commonwealth Council Pre-GED Program.
The lack of a high school diploma made it difficult for Kirk to find steady employment. That is until Lisa and Felix Hendrickson, owners of Hendrickson Custom Cabinetry in the South Bronx, saw something special in him. This summer, Kirk worked for Lisa and Felix as part of the Department of Youth and Community Development's Summer Youth Employment Program (SYEP), a seven-week jobs program for New York City youth between the ages of 14 and 24. Federal stimulus funding helped to augment SYEP so that the Department of Youth and Community Development could employ more youth. In fact, Kirk is just one success story among 13,000 additional youth who gained employment this summer through the extra slots at SYEP.
This opportunity allowed Kirk to spend his summer focused on gaining valuable work skills while benefiting from a mentorship with business owners Lisa and Felix. "Kirk is a diamond in the rough," they said of their experience with him. "He needs to build self-confidence. Once he does, he has the potential to be a great leader." 
Kirk gratefully acknowledged, "The support I have received from both Harlem Commonwealth and Hendrickson has made a big difference in my life. I know I am already making better decisions regarding my future."
Now, Kirk sees a bright future ahead of him. He plans to take the GED exam in January 2010.