Name of Individual: Ronnie Barlow
Award Name: Surface Transportation Program
Administered By: Department of Transportation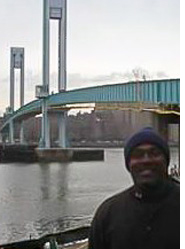 Ronnie Barlow is currently working to rehabilitate the Wards Island Pedestrian Bridge which is located at 103rd Street in Manhattan.  The $6.8 million project is funded through the American Recovery and Reinvestment Act (ARRA).  The project will replace the existing grid deck on the lift span, jack and replace 12 bridge bearings, overhaul the bridge electrical control system, and repair deteriorating parts of the bridge.  Construction began in July 2010 under the supervision of the New York City Department of Transportation (DOT).
In the fall of 2010, Ronnie was hired as a union ironworker by Kiewit Constructors.  Previously laid off from work for over a month, Ronnie had been calling his union hall regularly looking for employment.  When ironworkers were needed for this Wards Island Pedestrian Bridge project, the union hall referred him to DOT to help with the effort. 
Ronnie heard about ARRA through the news and says that he has "had a good experience" while working on the bridge.  "Having the job has helped my savings," he explained, "given me confidence and opened up new opportunities." He plans on taking a nice vacation after completion of the project this fall.