Name of Individual: Anissa Cabrera
Award Name: Chronic Disease Self-Management Program
Administered By: New York City Department for the Aging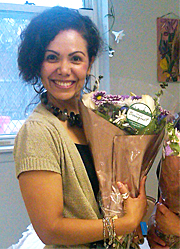 Anissa Cabrera, suffered a stroke when she was 15 years old, leaving her with problems in flexibility that she needs to manage day-to-day.  Anissa is a New York State Licensed Social Worker. She has been a strong advocate and social service provider for the past 10 years   She currently works at the NYC Dept. for the Aging (DFTA) as the Supervisor of all Senior Centers and transportation programs for the Borough of Brooklyn. 
In 2011, DFTA received ARRA funding to train existing staff at the City agency as well as partner community organizations on how to support and educate seniors so that they can live healthy lives while managing their chronic conditions.  
Anissa immediately signed up for the "Chronic Disease Self-Management Program" (CDSMP) training.  "Dealing with the pain or aggravation of a broken bone isn't easy.  But at least there is an end in sight.  Once the bone heals, you're pretty much back to normal," Anissa explains.  "That's not true for someone like with me who has had a stroke, or someone else who might have high blood pressure, heart failure, diabetes, arthritis, osteoporosis, or any other chronic condition.  With no "cure" in sight, the symptoms and problems usually last a lifetime.  It can be extremely difficult, exasperating, even frightening.  You can suffer day to day.  Or you can take charge and manage the disease instead of letting it rule you." 
Anissa became certified as a Master Trainer.  Along with Ruth Cordero, her co- leader, she now facilitates the six-week CDSMP workshops at senior centers throughout the City.  As a trainer, she walks participants through the curriculum step by step.  Each two-and-a-half hour weekly session touches on skills to manage health-related issues and keep active.  
As Anissa describes, "You never know if you're going to encounter resistance at the workshops.  As we get older, we can get set in our ways!  But often, the seniors are like sponges.  They want to learn how to better manage their illness.  For instance, we recently visited the Bronxworks senior center in the West Farms area in the Bronx.  Twenty-two seniors attended.  Most were diabetic and had high blood pressure.  They embraced new ideas.  They set their own goals of walking more, drinking more water, and replacing fried foods with vegetables. One, participant in her seventies, Margarita Sanchez, lost 20 pounds.  An 88-year-old participant, Dilia Roche, had never paid attention to food labels.  She surprised her daughter in the supermarket when she asked for a substitute item rather than the one her daughter chose.  Participants in the program learned to encourage each other to pursue healthy living habits.  As the six weeks continued, everyone bonded like a family because they realized they shared something in common.  As a result, they talked about goals, fears, and best of all, successes!" 
CDSMP workshops cover a range of topics, from nutrition and exercise to communicating effectively with family, friends, and health professionals.  "We help participants consider their relationship with their doctors and whether they are getting the care that they need," Anissa says.  "Some seniors admitted that they have language problems or complained their doctor didn't spend enough time with them.  For some, just the idea of looking for another healthcare provider gave them a sense of empowerment." 
Anissa isn't just an experienced and trained coach, she's living and working with chronic illness herself.  "I am proud to serve as a role model.  And through this program, I can provide support to seniors so that they too can continue normal daily activities and deal with the range of emotions that chronic illness may bring about.  It's a blessing."