Mayor Michael R. Bloomberg, Health Commissioner Dr. Thomas Farley, Transportation Commissioner Janette Sadik-Khan and the Mayor's Sustainability Director David Bragdon today released the results of the most recent Health Department air quality study which shows the impact of traffic on neighborhood air pollution across New York City.  The report documents an immediate and substantial air quality improvement in Times Square after the creation of a pedestrian plaza. The data are contained in the latest report from the New York City Community Air Survey (NYCCAS), a comprehensive survey of street-level air quality in the five boroughs created as part of PlaNYC. A quarter-million pedestrians enter Times Square each day and have the potential to benefit from the cleaner air. After the pedestrian plaza was created, concentrations of traffic-related pollutants were substantially lower than measurements from the year before and were less than in other midtown locations.
"We created pedestrian plazas right in the heart of our City to straighten out some of the chokepoints in our street grid and to help traffic flow more smoothly and quickly through Midtown," said Mayor Bloomberg. "We also expected that by reducing the numbers of vehicles in and around Times Square, we would also improve the area's air quality, and that's exactly what the numbers now show. PlaNYC has laid the groundwork for improving air quality for all New Yorkers – where they live, and where they work – while also improving pedestrian safety and increasing public space."
 The New York City Community Air Survey is one of more than a dozen PlaNYC programs designed to improve air quality in New York City. The Health Department, in partnership with Center for the Biology of Natural Systems at Queens College, City University of New York, is collecting air samples at 150 locations throughout the city. In each of the four seasons, a monitor at each location collects samples of air pollutants over a two-week period. Air samples are analyzed for fine soot particles (PM2.5), elemental carbon (EC) and other elements in pollution particles, nitrogen oxides (NO2 and NO), sulfur dioxide (SO2) in the winter months, and ozone (O3) in the summer.  The sampling results from each location were analyzed for statistical correlation with dozens of land-use factors, such as the density of building boilers and truck traffic, and the results were projected to other locations to create air-quality maps for the entire city.  Prior reports have shown air pollution caused by the use of boilers that burn Number 4 and Number 6 heating oils in several neighborhoods. The health risks of burning these high-sulfur oils have prompted state and local laws to require cleaner fuels. Data from the survey will help to inform new air-quality initiatives in the next edition of PlaNYC, to be released on April 21, 2011.
"New York City's overall air quality has improved in recent decades, but levels of pollutants are still too high," said Commissioner Farley. "The Community Air Survey provides an air quality status report while the separate health impact analysis focuses on the lives that can be saved and hospitalizations avoided if we continue to reduce air pollution. This analysis shows that even small improvements in air quality can produce huge gains in health for all New Yorkers."
 "The new Times Square is a showcase for New York's vitality and energy, rather than for congestion and pollution," said Commissioner Sadik-Khan. "The changes here have been big wins for safety, mobility and business.  Now we can see that they have delivered great environmental gains as well."
"The Community Air Survey and its interesting findings show how PlaNYC can apply good data across disciplines – in this case air quality monitoring, transportation planning, and public health – to improve quality of life for New Yorkers," said David Bragdon, the Director of the Mayor's Office of Long Term Planning and Sustainability. "We will announce further improvements to air quality measurement and other new parts to our sustainability agenda when PlaNYC is re-launched next week."
The just-released NYCCAS report confirms that major sources of air pollution generated in New York City are vehicle traffic and buildings burning high-sulfur heating oils. Additionally, in Times Square, concentrations of Nitrogen oxide (NO) and nitrogen dioxide (NO2), two pollutants closely associated with traffic, were among the highest in the city. After the conversion to a pedestrian plaza, NO pollution levels in Times Square went down by 63 percent while, NO2 levels went down by 41 percent. See charts below: oxides of nitrogen concentrations at Times Square monitor drop after conversion to pedestrian plaza.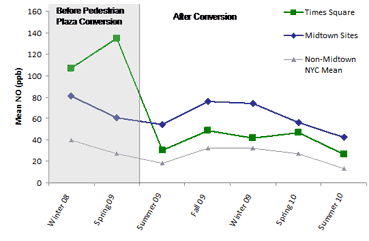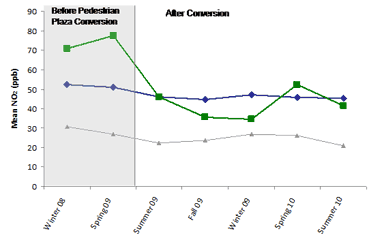 The Health Department air pollution health impact study estimates the toll that air pollution takes on the health of New Yorkers, focusing on two common air pollutants -- fine particulate matter (PM2.5) and ozone (O3). Both pollutants are among the most studied of environmental hazards, are found in New York City's air at concentrations above clean air standards, and are known to adversely affect health at levels in the city. They can irritate lungs, worsen asthma and emphysema, and increase the risk of heart attacks and premature death. Seniors and young children may be especially vulnerable to air pollution, but it affects everyone. The Health Department estimates that PM2.5 pollution in New York City is responsible, annually, for 3,200 premature deaths, 1,200 hospitalizations for respiratory conditions, 900 cardiovascular hospitalizations, and 2,400 child and 3,600 adult emergency department visits for asthma. Ozone levels are responsible, annually, for approximately 400 early deaths, 400 respiratory hospitalizations, 450 admissions for asthma, 1,800 child and 2,900 adult emergency department visits for asthma. The analyses show how even moderate air improvement measures could significantly reduce these health problems. Achieving PlanNYC's comprehensive sustainability goal of PM2.5 levels that are the lowest among large US cities would prevent 760 deaths, 500 hospitalizations and 1,400 emergency department visits per year. Even a more modest 10 percent improvement from current levels would prevent nearly half as many adverse health events (350 deaths, 230 hospitalizations and 660 emergency department visits per year).