Mayor Michael R. Bloomberg today answered the ceremonial '100 millionth' call to the 311 Customer Service Center, which operates 24 hours a day, seven days a week, and 365 days a year. As the City's single phone number for all non-emergency government information and services, 311 has received more than 100 million calls since its March 2003 inception. The system provides translation services in approximately 170 languages and also can be accessed through its web-based counterpart, 311Online, via www.nyc.gov. 311 has been utilized to hold City agencies accountable for results and has been a catalyst for the development of new, more efficient delivery of City services. Mayor Bloomberg commemorated the milestone by taking a live call at the 311 facility in lower Manhattan and congratulating call center staff for their daily efforts in making City government more accessible, transparent and accountable. The Mayor was joined by Mayor's Office of Operations Director Jeff Kay; 311 Executive Director Joseph Morrisroe; Sion Nathan, the call center representative who handled the 100 millionth call on Sunday; and La'Net Holman, the representative who took the 50 millionth 311 call in June 2007.
"311 has truly revolutionized how New Yorkers communicate with their government," said Mayor Bloomberg. "Before 311, if you wanted to get non-emergency information, there were 11 pages of phonebook numbers to plow through and even if you found the right number, getting the right person was often hit or miss. Not any more. But 311 is much more than a number to call. Its been a key to making City services more efficient and accountable. The constant, detailed flow of information that 311 gives us allows us to eliminate duplication by City agencies, direct resources where they're needed most and ensure agencies are responding to complaints."
"The system is more than a call center and a place for citizens to easily obtain information - it's a government accountability tool," said Mayor's Office of Operations Director Jeff Kay. "311 produces volumes and volumes of data, and the more information we have about the services New Yorkers want and how we are responding to them, the more steps we can take to make City agencies perform better and faster."
"Each day, the dedicated men and women at 311 work tirelessly to ensure that City government is as accessible as ever to the people it serves - whether over the phone, online or through mobile devices," said Department of Information Technology and Telecommunications (DoITT) Commissioner Carole Post. "I thank them for their commitment to serving their fellow New Yorkers, and for aiming to treat every caller with courtesy and professionalism. Their continued efforts make City government more customer-friendly than ever, and I'm counting on them to keep up the great work."
Since its launch in March 2003, 311 has handled more than 100 million calls with 87 percent of calls answered in 30 seconds or less, and an average answer speed of 15 seconds - exceeding call center industry standards. In 2009 alone, 311 received a record 18.7 million calls - more than 50,000 per day - with an 84 percent service level and average answer speed of 18 seconds. In 2009, nearly 75 percent of calls were resolved without transferring to an outside agency, a higher percentage than ever before. In 2010 to date, 311 has serviced 84 percent of its more than seven million calls in 30 seconds or less, with an average answer speed of 23 seconds.
The very first call to 311 came in at 12:01 AM on March 9, 2003, a complaint about loud noise from a neighbor's party in Jackson Heights. The 50 millionth call to 311 came in at 9:55 AM on June 20, 2007, an inquiry on how to start a day care center. The 100 millionth call came in at 11:50 AM on Sunday, May 9, 2010, a complaint about an abandoned vehicle.
Since 311 was launched, the top ten call types are:
| | | |
| --- | --- | --- |
| Inquiry Name | # of Inquiries | % of All Calls to 311 |
| Noise (all inquiries) | 2,098,288 | 2.1% |
| Heat Complaint - Inadequate Heat | 1,423,786 | 1.4% |
| Bus or Subway Information | 1,241,254 | 1.2% |
| Landlord Complaint - Maintenance | 1,184,753 | 1.2% |
| Parking Violation - Ticket Assistance | 1,042,367 | 1.0% |
| CFC and Freon Removal - Appointment | 975,739 | 0.9% |
| Missing Vehicle - Towed | 845,278 | 0.8% |
| Find a Police Precinct or Police Service Area | 832,062 | 0.8% |
| Alternate Side Parking Information & Status | 713,684 | 0.7% |
| Schedule a Plan Examiner Appointment | 635,628 | 0.6% |
Impact on City Agency Services
Reducing burden on 911 - 311 has contributed to a reduction of approximately four million calls to 911 since 2003, resulting in less diversion of first responder resources to non-emergency situations.
Eliminating duplication of services - By centralizing the call taking process for complaints citywide, 311 has uncovered areas where multiple agencies were performing the same or similar tasks. Some areas where duplication was eliminated include complaints regarding manhole covers, potholes and the improper disposal of refrigerators.
Filling gaps in service - The public has at times requested services through 311 that the City had not historically provided. Gaps in service delivery that have been addressed include complaints related to noxious odors from portable toilets; about potentially hazardous open sidewalk vaults; and about bike path conditions on City bridges.
Directing resources to areas of need - 311 has allowed the City to identify neighborhoods and locations with the highest level of complaints and concentrate resources where needed and utilized data to solve problems.
Allowing agencies to focus on their mission - By disseminating information, particularly about major events, 311 allows City agencies to better focus on their key public service areas - rather than on call-taking. Throughout the August 2003 regional blackout, and again during the transit strike in December of 2005, 311 provided updated information to more than 500,000 callers. Across multiple winter and summer seasons, 311 has been used to help the public locate City-provided heating and cooling centers. 311 has also enabled City agencies to launch large-scale initiatives, such as the Department of Health and Mental Hygiene's free Nicotine Patch and Gum Program. Since 2005, 311 has helped to enroll nearly 200,000 New Yorkers in the program.
Improving agency efficiency and service delivery - 311 has also been a catalyst for the development of new, more efficient and increased delivery of City services. 311 data provides a detailed count of every inquiry and its result. 311 data is utilized in the Citywide Performance Reporting system, which holds agencies accountable for delivering results. Examples of the increase in City services provided since the inception of 311 are detailed in the chart below: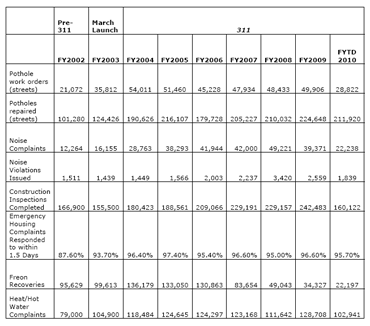 View Larger Version
Improvements to 311
Since its inception, 311 has continued to evolve, increasing the kinds and types of services available to New Yorkers and incorporating new technology to make it easier to utilize 311. Some of the changes include:
In April 2008, 311 expanded to include comprehensive health and human services information and referrals from City agencies, non-profit, and community based organizations citywide.


In September 2008, 311 became among the first government call centers in the country to enable customers to submit pictures and videos with service requests from desktop or mobile web browsers.


In June 2009, the 311Online portal launched on www.nyc.gov, where users can obtain information, report problems, check the status of previously-filed complaints and request City services. Recent improvements to 311Online enable New Yorkers to access content in over 30 languages, use an enhanced Site Finder to search for City and non-profit programs, and customize sections of the site based on information and services most relevant to them.


In June 2009 311 launched its own Skype and Twitter accounts. Through Skype - a software application that enables calls to be made over the Internet - people from around the world are able to call 311 for free. The City is also using Twitter to 'tweet' information about Alternate Side Parking status, school closures and information about other citywide events.


In October 2009, 311 launched the free iPhone application, enabling New Yorkers to submit select quality-of-life complaints - with an option to attach pictures - directly to 311 through their iPhone.


Since October 2009, 311 has served as a resource for parents seeking answers about their children's educations, including information on enrollment topics, transportation questions, admission or general education inquiries. Customers can speak with 311 representatives for general questions, and directly to DOE specialists trained in these areas for more specific information.
Built and managed by the City's DoITT since inception, 311 was transferred in April to the Mayor's Office of Operations. The shift is intended to further ensure that service requests are resolved quickly and effectively, that service level standards are more universal, and that each City agency's accountability is tied to customer service standards. DoITT continues to administer the technology supporting 311's operations.