Mayor Michael R. Bloomberg and City Health Commissioner Dr. Thomas A. Farley today announced that life expectancy for New Yorkers born in 2007 has increased to an average of 79.4 years – a gain of nearly 5 months since 2006, and the longest average life expectancy ever recorded in New York City. Life expectancy has shot up by a year and 7 months since 2001, exceeding national gains, and has now reached 82 years for women and 76.3 years for men. The Mayor and Commissioner made the announcement as the Health Department published new findings in its Annual Summary of Vital Statistics. Besides charting an increase in life expectancy for 2007, the report provides detailed statistics on births and deaths in 2008. The overall death rate remained at an historic low – and deaths from many preventable causes declined.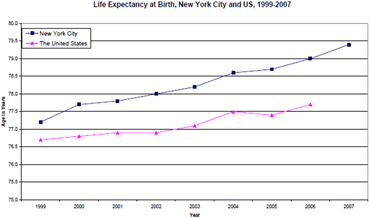 "Helping people live longer, better lives is the core responsibility of government, which is why nearly every initiative we take on is focused on that goal," said Mayor Bloomberg. "The steady, continued increase in life expectancy demonstrates the remarkable progress we have made and the need to continue to press forward with bold health policies. The report shows too many New Yorkers still die from preventable causes and reveals persistent inequalities that show we must maintain our commitment to improving the health of all New Yorkers."
The Annual Summary of Vital Statistics, available online at nyc.gov/health, also highlights gains in key health goals outlined in the City's Take Care New York (TCNY) health policy. New Yorkers made progress in six of the seven TCNY priority areas where vital statistics can reflect progress. These include HIV, cancer, depression, drug abuse and risky alcohol use. Additionally, the infant mortality rate remained close to its historical low in 2008, and the teen pregnancy rate declined by 3.4 percent.
"New Yorkers can combat the leading causes of premature death by quitting smoking, being more active, maintaining heart-healthy diets, controlling high blood pressure and cholesterol, using condoms to prevent the spread of HIV, and living free of alcohol and drug dependence," said Commissioner Farley. "We will continue to work with communities and health care providers to make New York the healthiest city we can."
Deaths in New York City, 2008
The citywide death rate was 6.5 deaths per 1,000 people in 2008 – nearly 20 percent lower than the national death rate of 8.1 per 1,000 in 2006, the most recent year on record. Between 2007 and 2008, deaths due to HIV fell by 4 percent in New York City, drug-related deaths plunged by 13 percent, and cardiovascular disease claimed 284 fewer lives. Heart disease and cancer remained the city's biggest killers, claiming 21,192 lives and 13,047 lives, respectively, in 2008. The leading killers with significant increases were chronic lower respiratory disease (mainly chronic obstructive pulmonary disease), which rose by 12 percent, and deaths due to high blood pressure and hypertensive kidney disease, also up by 12 percent.
Leading Causes of Death
All Ages – 54,193 Deaths

Under 65 –16,331 Deaths

Rank

Cause

Deaths

Cause

Deaths

1

Heart Disease

21,192

Cancer

4,552

2

Cancer

13,047

Heart Disease

3,406

3

Influenza/Pneumonia

2,300

HIV

996

4

Diabetes

1,643

Psychoactive Substances

707

5

Chronic Lower
Respiratory Diseases

1,605

Accidents

618
The report shows a continuing decline in smoking-attributable deaths, which have fallen by 11 percent since 2003 (from 8,520 to 7,569 deaths among adults 35 and older). Smoking-induced cardiovascular diseases, including heart attacks and strokes, claimed 591 fewer lives in 2008 than in 2003. Recent declines in the City's smoking rate should yield even greater benefits in future years. To estimate smoking-related deaths, the Health Department uses methods published by the federal Centers for Disease Control and Prevention; the estimates do not include deaths from exposure to second-hand smoke.
The deadliest cancers for New Yorkers younger than age 65 were due to lung cancer (894 deaths); breast cancer (493 deaths), and colorectal cancer (450 deaths). And while overall cancer deaths fell in 2008, the toll from colorectal cancer rose by 12 percent. Colorectal cancer is one of the most prevalent – and most preventable – cancers affecting New Yorkers. Colonoscopy screening can help prevent colon cancer deaths by identifying the condition at its earliest, most treatable stages.
The number of drug-related deaths fell from 849 to 736 in 2008, but accidental drug overdose remains one of the leading causes of premature death for adult New Yorkers. Unintentional overdose deaths occur across many racial and ethnic groups and at all income levels, and rates are higher in the City's low-income neighborhoods. Alcohol, another leading cause of premature mortality, remained as troublesome in 2008 as it was in 2003, claiming an estimated 1,700 lives among New Yorkers 20 and older. Excessive drinking increases the risk of liver disease, high blood pressure, depression and a range of cancers, as well as violence and unintentional injuries.
The 4 percent decline in deaths from HIV probably reflects several factors, including a lower infection rate among injecting drug users (thanks in part to syringe exchange programs, expanded HIV testing, and more effective medical treatment for the infection). While HIV remains a leading cause of premature death in New York City, no HIV deaths have occurred in infants during the past five years. This year, for the first time since the beginning of the epidemic, no New Yorker under 15 died from HIV disease.
Influenza and pneumonia remained leading causes of death in 2008, but vaccination can help prevent both. The Health Department reminded New Yorkers that this year's flu season is not over. Influenza vaccine is available through pharmacies and local clinics, as well as doctors' offices. For information on how to get vaccinated, New Yorkers should call 311 or visit nyc.gov/flu.
Births and Teen Pregnancies in New York City, 2008
In 2008, 127,680 babies were born in New York City, a decrease of nearly 1,300 births from 2007, but teen pregnancy remained prevalent in some communities. The citywide rate was 85.6 pregnancies for every 1,000 women 15 to 19 years old – down from 88.5 per 1,000 in 2007 – but disparities persisted by poverty level and among racial and ethnic groups. Teens living in poor neighborhoods are nearly three times (2.76) more likely to become pregnant than teens living in more affluent neighborhoods. The rates among black teens (126.8 per 1,000) and Hispanic teens (114.2 per 1,000) were roughly five times the rate among white teens (22.9 per 1,000). All three groups experienced decreases from 2007 to 2008.
In the State of the City address last week, the Mayor pledged to improve access to contraceptives in school and community-based clinics – and city agencies are moving forward on both fronts. The School-Based Health Center Reproductive Health Project is working with 33 of the city's 41 high school clinics to increase access to a full range of contraceptives. The program has established four regional referral sites for female students who choose long-acting reversible contraceptives, such as Implanon and intrauterine devices (IUDs). The agency hopes to expand the school-clinic effort this year. Meanwhile, in high schools that do not have their own health centers, the Health Department is actively linking sexually active students to nearby sites where they can receive birth control and other health services. Studies show that since 1995, improved contraceptive use has accounted for most of the national decline in teen pregnancy.
The new report shows that the infant mortality rate – the proportion of children who die before their first birthday each year – stayed near its historical low, at 5.5 infant deaths per 1,000 live births. The citywide rate has fallen by 20 percent in the past 10 years, but that figure masks sharp racial and economic disparities. The rate of infant deaths among blacks remained high with 10.2 deaths per 1,000 live births, almost twice the citywide rate.
The Annual Summary of Vital Statistics, the Health Department's yearly report of births and deaths in New York City, is compiled by the agency's Bureau of Vital Statistics. Its tables, graphs and figures present health statistics according to ethnic group, gender, age, health district, community district and borough of residence. Death rates are age-adjusted when the adjustment facilitates comparisons over time and among geographic areas. Vital Statistics Annual Summaries as far back as 1961 are available online at www.nyc.gov/vitalstats. To learn how to obtain a birth or death certificate, visit www.nyc.gov/vitalrecords or call 311.