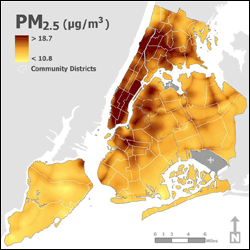 Mayor Michael R. Bloomberg and Health Commissioner Dr. Thomas Farley today released the New York City Community Air Survey, the first-ever comprehensive survey of street-level air quality in New York City. The survey reveals wide variations in wintertime air quality across the City, with the highest levels of pollution occurring in areas with heavier traffic and a greater concentration of oil-burning boilers in commercial and residential buildings.
The findings show that Manhattan and the more built-up, high-traffic locations in the other boroughs have the city's highest particulate levels, as well as higher concentrations of nitrogen dioxide and elemental carbon.  The Mayor discussed the ambitious study, launched as part of PlaNYC, in remarks at the United Nations Climate Change Conference in Copenhagen.
"We conducted a comprehensive street-level study of our City's air quality to target local sources of pollution," said Mayor Bloomberg. "We are collecting air samples around the city at ground level so we can measure the air New Yorkers breathe while walking on the streets. This study clearly demonstrates the impacts that pollution from vehicles and certain oil-burning boilers has on our neighborhoods – and it shows us that the most densely populated areas are also the most polluted."
"New York City's overall air quality has improved in recent decades," said Commissioner Farley, "but levels of pollutants are still high enough to harm our health.  Until now we have not had systematic data on how air quality varies across neighborhoods. By showing where air-quality levels are better or worse and identifying the most important local sources of harmful air pollutants – particularly diesel fuel and heating oil – the New York City Community Air Survey can help focus our efforts on actions that can reduce air pollution and improve our health."
"As New York City grows to accommodate a million more people by 2030, we need to improve air quality and reduce greenhouse gas emissions," said Rohit T. Aggarwala, Director of the Mayor's Office of Long Term Planning and Sustainability. "Fortunately, the right strategies can achieve both of these objectives.  This study shows that all New Yorkers have a stake in cleaner air and a more sustainable future."
To better assess the levels and sources of harmful pollutants, researchers collected and analyzed air samples from150 sites across the five boroughs last winter. Besides showing large geographic differences in the concentration of fine particles (PM2.5) and other pollutants, the analysis showed that pollution levels were closely associated with traffic volume and fuel use by buildings. Fine-particle and sulfur dioxide pollution was concentrated in areas where more buildings burn oil for heat, and levels were especially high in areas where buildings use so-called residual oil (also known as #4 and #6 oil) in their boilers.
All of these pollutants have adverse health effects. They can irritate lungs, worsen asthma and emphysema, and increase the risk of heart attacks and premature death. Seniors and young children may be especially vulnerable to air pollution, but it affects everyone. In a national study published this year, researchers found that residents in cities with poorer air quality generally had shorter life expectancies. Cities that achieved larger reductions in fine-particle air pollution during the 1980s and 90s enjoyed greater health gains during those decades.
Dr. Thomas Matte, Director of Environmental Research at the Health Department and lead investigator for the survey, noted that "even modest improvements in air quality can produce significant public health gains, especially for New York's must vulnerable residents."
The new report – available at www.nyc.gov – is the first of several that will grow out of the Community Air Survey. Future reports will assess other patterns in air quality and relate them to seasonal changes in fuel use and atmospheric conditions.
"It's one thing to take a handful of air quality measurements for the entire city, and quite another to deploy an array of monitors in all five boroughs," said Marcia Bystryn, president of the New York League of Conservation Voters. "The New York City Community Air Survey Study pinpoints local air quality problems and will help us work toward solutions. We applaud Mayor Bloomberg and Commissioner Farley for this groundbreaking study and for their commitment to a healthy and green New York City."
"This study is the most complete analysis confirming the unhealthy quality of air that New Yorkers breathe every day," said Andy Darrell, New York Regional Director of Environmental Defense Fund.  "The City's findings irrefutable demonstrate the urgent need for strong action to reduce the toxic pollution created by heating oil and traffic."
"This study shows that air pollution is a serious citywide issue." said Richard Kassel, Senior Attorney at the Natural Resources Defense Council (NRDC). "Air pollution and city living do not have to go hand-in-hand. By reducing vehicle pollution and cleaning up old burners and boilers, the City can make a huge difference in the quality of the air we breathe."
"Mayor Bloomberg's effort to enact the most comprehensive air quality testing program in the nation is to be commended," said Scott T. Santarella, President and CEO of the American Lung Association in New York. "New York City's program will play an important role in identifying air pollution sources and helping to enact solutions that will help all city residents breathe easier."
"This study is an important first step in understanding neighborhood-level air quality, an issue that has too long been neglected," said Peggy Shepard, Executive Director of WE ACT for Environmental Justice. "The study will provide public health professionals and policy makers with needed information to develop strategic programs to effectively address the City's air pollution concerns. We applaud the Bloomberg Administration and the Health Department for this forward-thinking initiative; and we stand with the City to improve air quality in our most impacted neighborhoods."
About the New York City Community Air Survey
The New York City Community Air Survey is one of more than a dozen PlaNYC programs to improve air quality in New York City. The Health Department, in partnership with Center for the Biology of Natural Systems at Queens College, City University of New York, is collecting air samples at 150 locations throughout the city. In each of the four seasons, a monitor at each location collects samples of air pollutants over a two-week period. Air samples are analyzed for fine particles (PM2.5), elemental carbon (EC), other elements in particles, nitrogen oxides (NOx), sulfur dioxide (SO2) in the winter months, and ozone (O3) in the summer. The monitoring locations are in areas with high or low traffic and low building densities, various mixes of commercial, residential and industrial properties, and in areas with dense or sparse tree cover – a reflection of the variety of urban environments found in New York City. The sampling results from each location were analyzed for statistical correlation with dozens of land-use factors, such as the density of boilers and truck traffic, and the results were projected to other locations to create air-quality maps for the entire city. 
Data from the survey will help to inform air-quality initiatives in the next edition of PlaNYC, to be published in 2011. New York City's second round of sustainability planning, like the initial PlaNYC, will involve the community in developing these initiatives. To learn more about other New York City air-quality initiatives, visit www.nyc.gov.