Mayor Michael R. Bloomberg and New York City Health Commissioner Thomas R. Frieden announced today that New York City has made significant progress in meeting seven out of 10 ambitious public health goals set in 2004 under the City's "Take Care New York" health policy. By 2007, the most recent year on record, New Yorkers had surpassed 2008 targets within four of the program's priority areas: colon cancer screening, regular access to primary health care, tobacco smoking, and intimate partner homicide. The findings are detailed in the fourth annual Take Care New York progress report, released today, which outlines the strides the City has made over the past four years, and the challenges that remain. The Mayor and Dr. Frieden were joined at Brooklyn's Maimonides Medical Center by Health and Hospitals Corporation President Alan D. Aviles, Maimonides Medical Center President and CEO Pamela Brier, Bedford Stuyvesant Family Health Center Medical Director Dr. Pascale Kersaint, Community Health Actio of Staten Island Executive Director Diane Arneth, and other community partners.
"New York City has never been healthier," said Mayor Bloomberg. "And the fact that New Yorkers are living longer-an average gain of one year and three months since 2001-is a testament to our progress. We have put particular focus on improving health among low-income residents and minorities, who suffer more than their share of preventable illness and death. We are chipping away at these gaps and making a long, healthy life a possibility for every New Yorker."
"We made real progress in decreasing smoking, boosting colon cancer screening and decreasing HIV-related deaths," said Health Commissioner Dr. Thomas R. Frieden. "It's a tribute to the excellent work of the Health Department staff, our partners and all New Yorkers that the city's health is so much better. There is much more to do. By working together with focus on what works, we can achieve even more."
"We in the New York City Council are committed to working closely with Mayor Bloomberg and Commissioner Frieden on a number of important public health initiatives," said Council Speaker Christine C. Quinn. "We are pleased to see New York City continues to lead the way in improving public health for all New Yorkers. Today's announcement is more evidence that Take Care New York and the Council's NYC Women First initiative are good examples of local government making a real difference in the lives of New Yorkers, particularly helping men and women in communities of color stay healthy."
Since Take Care New York was launched in 2004, the City has also narrowed health gaps among racial and ethnic groups in colon cancer screening and access to primary health care. The proportion of black and Latino New Yorkers getting colonoscopies has increased dramatically, closing longstanding disparities in screening rates. Black New Yorkers are also now nearly as likely as whites to report having a regular doctor.
Take Care New York set ambitious four-year goals to reduce 10 leading causes of preventable illness and death. Since its launch, the Health Department has worked with more than 400 health care providers, community organizations and other New York City agencies to address these priority areas. This table summarizes the current status of the 10 priority areas.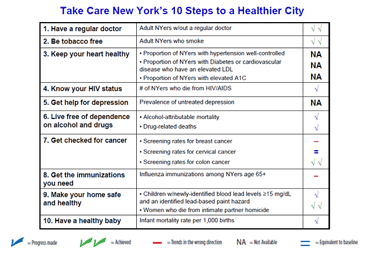 Each of the 10 areas includes one or more specific indicators for which the city set 2008 targets. Numbers for 2008 are not yet available, but the 2007 data reported today show that New York City is on track to meet nearly all of the 16 targets that can be assessed (some baseline surveys have not yet been repeated). Here is a summary of the progress made on various indicators between 2002 and 2007.
364,000 more New Yorkers have a regular doctor. In 2002, 25 percent of New Yorkers did not have a regular doctor but that figure has now fallen below 20 percent, which was Take Care New York's goal. In 2002, one in four black New Yorkers (25 percent) did not have regular doctor compared with one in five (20 percent) whites. In 2007, the gap narrowed to just 16 percent of black New Yorkers not having a doctor compared with 14 percent of white New Yorkers. One in three (33 percent) Hispanic New Yorkers did not have a doctor 2002, a figure that dropped to 29 percent by 2007.


300,000 fewer adult New Yorkers smoke. Smoking prevalence among New York City adults fell from 21.5 percent in 2002 to 16.9 percent in 2007, surpassing the Take Care New York goal of 18 percent. That citywide accomplishment includes a 23 percent decline among Hispanic New Yorkers, a 21 percent drop among whites and 16 percent drop among blacks). Teenage smoking has fallen 52 percent since 2001. Black (3.0 percent), Asian (6.8 percent), and Hispanic (9.4 percent) children smoke at far lower rates than white teens (21.8 percent), and smoking has declined faster among black and Asian children than among others.


598 fewer deaths from HIV. The number of New Yorkers who died from HIV/AIDS-related illnesses fell from 1,713 in 2002 to 1,115 in 2007, a 35 percent decline. The finding shows the city is on track to reach the Take Care New York goal of fewer than 1,000 deaths in 2008. Among black New Yorkers living with HIV, the AIDS-related death rate fell by 27 percent between 2004 and 2007 - from 29.2 to 21.2 deaths per 1,000 people. The death rate fell by a similar margin (30 percent) among HIV-positive whites during the same period - from 16.4 to 11.5 deaths per 1,000 people.


143 fewer deaths from alcohol. The number of New Yorkers whose deaths were attributable to alcohol dropped from 1,551 in 2002 to 1,408 in 2006, almost reaching the goal of a reduction to 1,400 deaths.


73 fewer drug-related deaths. The number of New Yorkers who died from drug-related causes fell from 905 in 2002 to 832 in 2007. The 2008 goal was a reduction to 655 deaths.


48 percent increase in colonoscopy screening rates. The proportion of New Yorkers 50 and older who underwent a colonoscopy within the past 10 years increased from 42 percent in 2003 to 62 percent in 2007, surpassing the goal of 60 percent.
Proportion of People 50 and Older who had a Colonoscopy in the Past 10 Years by Race/Ethnicity (2003 vs. 2007)
| | | | |
| --- | --- | --- | --- |
| | percent 2003 | percent 2007 | percent Increase |
| Black | 35 | 64 | 83 percent |
| White | 48 | 62 | 29 percent |
| Hispanic | 38 | 63 | 66 percent |
| Asian/Pacific Islander | 24 | 54 | 66 percent |
319 fewer children were newly identified with lead poisoning. The number of children younger than age six with newly identified lead-poisoning and a known lead-based paint hazard fell by 43 percent between 2002 and 2007 - from 740 to 421. The Take Care New York plan aimed for a 65 percent reduction (to fewer than 260 diagnoses) by 2008.



20 percent reduction in women killed by intimate partners. The female death rate from intimate-partner homicide fell from 1.0 death per 100,000 women during 2000-2002 to 0.8 deaths per 100,000 during 2005-2007, meeting the goal of a 20 percent reduction.


10 percent decrease in infant deaths. The infant mortality rate has decreased from 6.0 per 1,000 live births in 2002 to 5.4 per 1,000 live births in 2007, almost two-thirds of the way to the 2008 goal of a reduction to 5.0 per 1,000.
The City's life expectancy has also grown by a year and three months since 2001, as announced by the Mayor in December. New Yorkers born in 2006 can expect to live an average of 79 years - a gain of four months over the 2005 figure. Life expectancy has grown faster in New York City than nationally, and recent declines in smoking-related deaths, HIV deaths, cancer deaths and heart disease deaths have fueled the city's progress.
For all the progress it charts, the report also notes areas where the city has yet to reach the Take Care New York goals. These include flu immunization, and breast and cervical cancer screenings. The proportion of senior citizens getting flu shots has fallen by 13 percent since 2002. The proportion of women getting regular mammograms is down by 4 percent, while the proportion of women getting cervical cancer screening has plateaued at 80 percent.
"There is still much work to do," said Dr. Frieden. "We must need to do more to overcome health gaps based on race and income. In particular, we must further reduce heart disease and infant mortality deaths, increase screenings for breast cancer, and prevent more deaths from drug overdose."
Take Care New York Efforts to Reduce Disparities and Improve Health
The Health Department has launched or expanded many innovative initiatives aimed at reducing disparities during this four year period. The Primary Care Information Project, launched in 2006, has already helped 1,000 physicians who care for more than 1 million patients adopt electronic health record systems to improve the quality, efficiency and safety of medical care for the more than one million patients they treat. This project aims to transform the ways primary care is provided in community health centers in underserved areas, and improve health in all 10 Take Care New York areas. The program has enrolled more than half of all doctors in the city's poorest and sickest neighborhoods and is a national model for the effective implementation of information and technology in health care.
The city also expanded its Nurse Family Partnership program, which is now the largest of its kind in the nation, providing more than 1,800 families with skills and resources to ensure that low-income, first-time moms have healthy pregnancies, healthy babies and safe homes. And in 2008, the Health Department formed a broad coalition of healthcare providers and community groups to launch "The Bronx Knows," an ambitious effort with the goal that all Bronx residents between 18 and 64 learn their HIV status by getting a voluntary test.
Support and Accolades for Take Care New York
Yesterday, the Mayor and Dr. Frieden accepted the Citizens Budget Commission's (CBC) Prize for Public Service Innovation honor from the nonpartisan group on behalf of Take Care New York. The award recognized the program as a groundbreaking collaborative effort to improve the delivery of public services. "Take Care New York has set a new standard for innovative public health programs," said CBC President Carol Kellermann. "Broad in scope, evidence-based in approach, and impactful in results, it is being honored with the 2009 CBC Prize for Public Service Innovation."
"Take Care New York has pushed us to raise awareness among our doctors and patients about the importance of preventive and primary care," said Maimonides Medical Center President and CEO Pamela Brier. "Now our patients are cared for by doctors and nurses who understand that following Take Care New York's principles promotes good health and saves lives. As a result, we've seen higher rates of cancer screening, better management of chronic health problems and an increase in screening and treatment of depression. We were delighted to be the first community partner in this groundbreaking program."
"Take Care New York has been one of the most effective efforts demonstrating how government, in partnership with the not-for-profit sector, can work effectively together to increase the wellness of New Yorkers," said Staten Island Mental Health Society President Dr. Kenneth Popler. "The joint community focus has truly led to positive results as demonstrated for Staten Islanders."
For more information on Take Care New York, or to read the complete report visit www.nyc.gov/health/tcny. Take Care New York Progress Charts are attached.