Mayor Michael R. Bloomberg and Health Commissioner Dr. Thomas R. Frieden announced today that New Yorkers born in 2006 can expect to live an average of 79 years - a gain of four months over the 2005 figure. Since 2001, life expectancy has grown by one year and three months in New York City, significantly exceeding national gains. Recent declines in smoking-related deaths, homicides, HIV deaths, motor vehicle crashes, and infant deaths have fueled the city's progress. The Mayor was joined for today's announcement at the Harlem Armory by Deputy Mayor for Health and Human Services Linda I. Gibbs and Irene Wells Kibler, a 100-year-old Harlem resident.
"New Yorkers are living longer than ever, and this is no accident," said Mayor Bloomberg. "It is a tribute to the work of our dedicated workforce, including our police officers, Health and Hospitals Staff, and all who work hard to make New York a safer, healthier and more livable place. We are also confronting the leading causes of preventable death through aggressive anti-tobacco measures, and innovative cancer screening programs along with many other efforts to help prolong the lives of thousands of New Yorkers."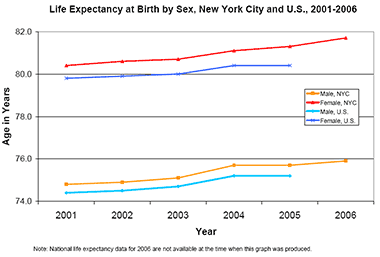 The new life expectancy figures, drawn from the Health Department's annual Summary of Vital Statistics, show that New York City women had a life expectancy of 81.7 years in 2006, up five months from 2005. Men gained 2.5 months during the same period, reaching an average life expectancy of 75.9 years. The City is planning to meet the needs of the expected 45 percent increase in New York City's senior population
(over age 65) by 2030 through the All Ages Project - a comprehensive review and reshaping of senior services aimed at making New York City the most age-friendly city in the nation.
"Last year, 1,300 fewer New Yorkers died from smoking than in 2002," said Dr. Frieden. "Despite important gains, there are still far too many premature deaths due to heart disease and cancer are caused by smoking, obesity and poor nutrition. We must do more to help people quit smoking, and to increase access to healthy food and more physical activity."
Deaths in New York City - 2007
The citywide death rate reached an historic low of 6.5 deaths per 1,000 people in 2007. The actual number of deaths fell from 60,218 in 2001 to 54,073 in 2007 (death rates are more current than life-expectancy estimates) even as the population grew by more a quarter of a million people. The Health Department also reported declines in 7 of the 10 leading causes of preventable death from 2006 to 2007. For example:
HIV

deaths fell 8 percent (from 1,209 to 1,115)

Stroke

deaths declined by 6 percent (from 1,669 to 1,563).

Drug-related deaths

dropped by 14 percent (from 979 to 849)

Fatal accidents

(excluding drug-related deaths) declined by 8 percent (1,119 to 1,035

Homicides

are at their lowest since 1960, down 17 percent (from 624 to 517)
Smoking-related deaths fell again in 2007, due to a declining smoking rate brought on by aggressive anti-tobacco efforts that began in 2002. Smoking killed an estimated 7,400 New Yorkers in 2007, down from 8,700 in 2002. When smokers quit, the risk of heart attack decreases rapidly, while the risk of cancer decreases more gradually. According to the methodology used by the Centers for Disease Control and Prevention to estimate smoking-attributable deaths, there were approximately 800 fewer cardiovascular disease deaths from smoking in 2007 than 2002, 200 fewer cancer deaths caused by smoking, and 250 fewer smoking deaths caused by lung disease. The decline in smoking-related deaths in this six-year period is attributable to fewer cancer, heart disease and lung disease deaths - all of which can be caused by smoking.
In 2007, single year increases were noted in the following three leading causes of death: cancer (up 1 percent), lung disease (up 3 percent) and hypertension (up 5 percent). Declines in premature deaths (deaths under age 65) have the greatest impact on improving life expectancy, and most leading premature causes of death as well.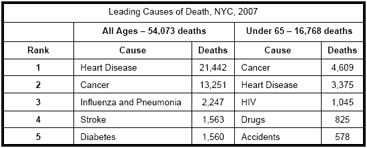 Births in New York City -2007
New York City recorded 128,961 births in 2007, an increase of 3,455 over the 2006 total of 125,506. This 2.8 percent increase was slightly larger than the previous year's increase. Births rose in every borough, but the largest increases occurred in Brooklyn and Queens. Teen births fell slightly in New York City last year (to 8,569), resuming a long-standing decline following a one-year increase in 2006. Twelve percent (12 percent) of births in the Bronx were to teens - twice the proportion born to Queens' teens, and a greater share than all other boroughs.
The infant mortality rate fell from 5.9 per 1,000 births in 2006 to 5.4 in 2007 - the largest drop since 2001. The rate in the Bronx remains higher (6.2) than the citywide average.