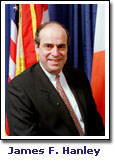 James F. Hanley is the Commissioner of Labor Relations for the City of New York.
Over 35 years ago, Mr. Hanley began working for the City as an Administrative Assistant in the Office of Labor Relations (OLR). Then, his duties covered a wide spectrum of responsibilities involving collective bargaining with the myriad municipal labor unions. As an Administrative Assistant, Mr. Hanley prepared cost analyses of union and City demands, and, putting his degree in Economics to use, he evaluated their cost impact on the City budget.
Soon, Mr. Hanley had been given principal responsibility for handling negotiations and overall administration of collective bargaining agreements affecting 50,000 employees. He also represented the City in impasse and related procedures; provided mediation and advisory services to non-Mayoral agencies when requested; supervised all uniformed forces negotiations; and assisted in formulating the City's labor policy.
Mr. Hanley has served as Assistant Director, then as Deputy Director. Later, when the agency changed its designation, Mr. Hanley attained the position of First Deputy Commissioner, then Acting Commissioner, and finally Commissioner. During his career, Commissioner Hanley acquired a wealth of experience in developing and implementing policy on a wide variety of difficult labor issues, having worked at all levels of management in the Office of Labor Relations. At one time or another, Mr. Hanley has negotiated virtually every agreement the City of New York has with its various unions.
In his current capacity as Commissioner of the City's Office of Labor Relations, Mr. Hanley has primary responsibility for the following areas:
Representing the Mayor in the conduct of all labor relations matters affecting the City and over 100 labor organizations

Negotiating, implementing and interpreting all the collective bargaining agreements covering over 300,000 employees in Mayoral and non-Mayoral agencies

Representing the Mayor before the Office of Collective Bargaining (OCB) and the Public Employees Relations Board (PERB) in all matters over which OCB and PERB have jurisdiction

Directing the Employee Benefits Program, including the administration of 13 health benefit plans covering 1.1 million employees and retirees, the Management Benefits Fund, and various Tax-Favored Benefit Programs such as the Deferred Compensation Plan with over $12 billion in assets and the NYCE IRA.

Serving as the Mayor's liaison and assisting in the resolution of issues affecting employers and employees in the private sector. Often working behind the scenes, OLR has brought its special expertise to bear upon the resolution of problems in many diverse areas.