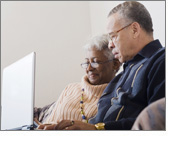 I'm too young to think about retirement.
I'm too old to save for retirement, so I'll just wait for my Social Security check.

FACT: It is never too early or too late to plan for your future, especially for retirement. Below are different retirement savings accounts that can help you start saving for your retirement today.
Employer-sponsored Plans
Employer-sponsored plans allow you to contribute a certain percentage of your paycheck without paying taxes. Some employers match your contributions up to a certain amount when you have worked at the company for a specified number of years. Common employer-sponsored plans include:

A

401(k) plan

[offered by a corporation]
A

403(b) plan

[offered by educational institutions, churches, public hospitals, and nonprofit organizations]
A

401(a) and 457 plans

[offered by state and local governments and certain tax-exempt entities]

Employer-sponsored plans are intended to be a long-term investment. There are penalties if you decide to take money out of the account before the "retirement age." Talk to your employer for more information, including the terms and conditions of the retirement plan. Each employer offers different plans for its employees.


Individual Retirement Accounts (IRAs)
A traditional IRA allows you to save money without paying taxes until you withdraw it. The money you put into the IRA can lower your taxable income and grows tax-free while it's in the IRA account. Some different types of IRAs include:

A

Simplified Employee Pension Individual Retirement Account (SEP-IRA)

is a variation of the IRA for the self-employed. SEP accounts are treated as IRAs and funds can be invested the same way as any other IRA.
The

Individual or Solo 401(k)

is for businesses in which the owner is the only employee; this IRA has a higher contribution limit than the SEP-IRA. Roth IRAs have a lower maximum contribution limit than the SEP-IRA and the Individual 401(k), but allow your money to grow tax-free, plus you can withdraw your money without paying federal taxes.

IRAs can be set up at a bank, credit union, or other financial institution.

IRAs offer different investment options. You can choose from individual stocks, mutual funds, bonds, or money market funds, depending on how much risk you want to take. In general, the closer you are to your retirement age, the less risk you should take.

What are stocks, mutual funds, bonds and money market funds?
Learn about these investment basics that can help grow your retirement savings.