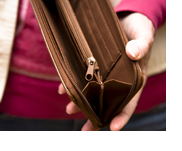 Saving even a small amount of money can go a long way toward meeting your savings goals. Here are some tips to help make saving your money a habit.






Write down your savings goals and stick to them.
Writing down your savings goals makes them more real and can motivate you. Don't overdo it. Set up goals that are realistic and review them regularly to track your progress.


Arrange for automatic deductions.
Arrange to have a small amount of your paycheck go directly into savings each pay period. Even if you can put only $10 from each paycheck into a savings account, it is a good start to help you build an emergency fund.

If you don't have direct deposit, check to see if your bank has auto transferring so that you can set up auto transferring of money into a savings account.


Save your loose change.
At the end of each week, deposit all of your loose change into your bank account. Though it may seem like a few coins, it can add up to sizeable savings quicker than you would expect.


Pay yourself.
Treat savings like an expense, such as a monthly bill. This way, you'll get into the habit of putting away a certain amount each month.


Create a spending plan to map out how much you can start saving today.