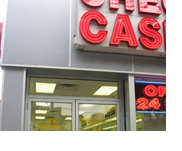 If you don't have a bank account, you might be dealing with check cashers, money transfer companies or private lenders.



Below are common fees that can be minimized or even disappear when you open a basic bank account.



Cash Advance Fee
When you need cash and don't have access to your savings, you may decide to use your credit card to get a cash advance from an Automated Teller Machine (ATM). Your credit card company will charge you a fee for this transaction plus you will have to pay interest.
Bank account advantage: If you have a bank account, you can access your money from any ATM, though we recommend you use your own bank's ATM to avoid fees.
Check Cashing Fee
Using a check casher to cash your paycheck comes at a cost. According to the New York State Banking Department, check cashers are not allowed to charge fees over 1.64%. For a list of check cashers supervised by the Department, click here
Bank account advantage: You can deposit and/or cash checks for free if you have a bank account. Please note: Monthly service fees may apply depending on the type of bank account you have. If you don't want to wait in line to cash or deposit your checks, ask your bank and employer about arranging direct deposit - a program that deposits your paycheck electronically into the account you designate.
Bill Payment and Money Order Fees
Without a bank account, you likely rely on check cashers, telephone bill pay (which has a fee attached to it), or money orders (which generally cost $1.05 to $1.50 if purchased at the post office) to pay your bills. These fees can be easily avoided if you had a bank account.
Bank account advantage: A checking account allows you to write checks for free or at a low cost to make bill payments. In addition, many banks now offer online banking services so you can pay bills electronically through vendors' and lenders' Web sites.
Money Transfer / Wiring Fee
If you use a money transfer company to wire money to another person's account, it will cost you a fee, usually a percentage of the amount you wish to transfer. Depending on the amount you wish to transfer, fees can be quite expensive.
Bank account advantage: If you wire money from your bank account to another person's account, the bank will usually charge a flat rate that is generally lower than a money transfer company. Some banks offer an account with two ATM cards so that a person in Country A can deposit money into the account from which the person in Country B can withdraw assuming the bank has branches in both countries.
Loan Fees and High Interest Rates
When you need to borrow money, going to small loan lenders that lend you cash quickly can be quite expensive because they charge lending fees and high interest rates.
Bank account advantage: If you manage your bank account well and have a good credit score, most banks will offer loans at rates that are much better than small loan lenders.

Learn the benefits of opening a bank account