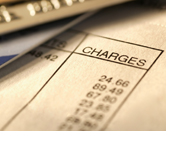 A bank account offers many benefits:
Monthly statements help you manage your money.
FDIC Insurance protects your money. Most bank accounts are protected under Federal Deposit Insurance Corporation (FDIC), meaning if the bank were to fail, the money you deposited - usually up to $250,000 - will be returned to you safely.
Compound interest will help your money grow. Compound interest is interest earned for a specified time period that is added to the balance to earn additional interest the following period.
However, banks do charge fees if you're unable to manage your money well. Below are four common fees and how you can avoid them.
Monthly Maintenance Charges
Most checking accounts will allow you to avoid monthly maintenance charges if you receive direct deposit of your paycheck or keep a minimum balance in the account - typically $25 - $100. If you don't have direct deposit, you need to ensure you have sufficient funds in the account to avoid maintenance charges, which are generally $3-4 per month.
Overdraft or Insufficient Fund Fees
As soon as you write a check, subtract that amount from your balance, even though it may take weeks for some individuals and businesses to cash your check. By immediately subtracting the check from your balance, you are less likely to overdraft or bounce a check, which results from having insufficient funds in your account. Similarly, when you use your debit card at a store, restaurant or other business, record the debit the same way you would a check. Often, these purchases do not draw from your account for several days.
Overdraft or insufficient fund fees range from $25-$35 per transaction, depending on the institution. Some institutions offer overdraft protection plans, which will transfer funds from your savings or a line of credit if you have insufficient funds in your checking account. There will be finance charges associated with the line of credit and you may incur a usage charge (typically $10) for drawing on your savings or credit.
Foreign ATM Fees
If you use ATMs other than those operated by your bank (foreign ATMs), you will generally be charged a fee by the ATM provider (typically $1.50-$2.00) and your financial institution (typically $1.50-$3.00). Most financial institutions will charge your account once a month for all of your foreign ATM transactions, so you should also track how many times you visit ATMs outside of your bank network to anticipate the fees you will be charged.
Transaction Fees
Some checking accounts limit the number of times per month you can withdraw from the ATM, use your debit card or write checks. If you exceed those limits, you will be charged (typically $1.00-$2.00) for each of these transactions.

Avoid unnecessary fees from non-banking institutions