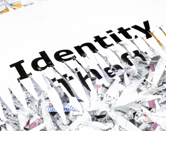 Thieves can be quite sneaky when it comes to finding ways to steal your identity. Below are quick tips to protect yourself and your money.






Don't give out personal information to someone you don't know.
Thieves can pretend to be bank representatives, Internet service providers, and government agents to get you to reveal personal information. If you're unsure who's contacting you, don't give out personal information to them without verifying their request first, especially when it's being requested over the phone or online.


Monitor your statements and check your credit report.
By checking your bank and credit card statements every month and your credit report at least once a year, you'll be able to spot strange activity sooner rather than later. You are entitled to one free credit report annually. Get your free credit report from one of the three credit reporting agencies today.


Shred important documents.
Identity thieves look through people's trash to try to get personal information. This is commonly referred to as "dumpster diving." So shred documents that contain your personal information before throwing them away.


Protect your credit and debit cards.
Your credit and debit cards provide direct access to your cash and identity, so keep them in a secure place and follow these tips:

Whenever you receive a new card, write on the back of it "ASK FOR ID." This way, whenever your credit card is used to buy something, the cashier will need to confirm the identity of the person using the card.
Destroy old credit cards by shredding or cutting them up.
Don't lend credit cards to anyone.
After using your credit card, make sure it's returned to you safely. For example, if you give your credit card to a waiter in a restaurant, check that the credit card returned is your credit card. People can switch your credit card if you are not paying attention.
Consumers should be careful with credit card insurance programs that claim to protect against charges incurred due to identity theft. Frequently, these policies provide no more protection than is afforded to each consumer under the law for free. If your card is lost or stolen and used without your permission, you are not held responsible for unauthorized charges above $50 as long as you report the card missing. Further, funds being paid to the credit card company for insurance are not being applied to balances; hence if there was an unauthorized charge of $35, you may have to pay the $35 in addition to your current insurance fees.


Protect the information you enter in a computer.
To prevent your information from being stolen, ensure that your computer has appropriate anti-virus software that will detect and prevent viruses. When letting other people use your computer, make sure any personal files are locked with a password and that you are logged off of any online accounts. In addition, if you are using a public computer (at a copy center or cyber café), don't enter personal information.


Choose passwords carefully.
If your password or PIN# falls into the wrong hands, you may be in danger of identity theft. Get quick tips on how to choose Passwords and PINs


My identity has been stolen. What should I do? Follow these four steps immediately

Learn about placing fraud alerts and/or NYS Security Freeze on your credit file