MARKETPLACE SCAMS
We need to verify important information on your account.
You've won $1,000,000!
You've been preapproved for a loan.

Do any of these phrases sound familiar? They are all designed to get your attention to steal your money or identity. Learn how to spot scams in advertising so you can protect yourself and your money.


Top five scams to avoid


Top five DCA consumer complaints you should know about


Think you've won the jackpot? Don't fall for these "prize winning" scams


Beware of terms and conditions that your lender or salesperson may not have
explained to you. Learn how to read the fine print in loan agreements
Recent Marketplace Scam News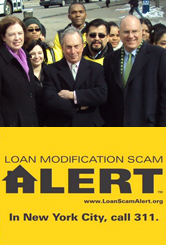 City Launches Local Loan Modification Scam Alert Campaign to Connect At-Risk Homeowners to Free, Safe Foreclosure Prevention Services
The City partnered with NeighborWorks America to help New Yorkers recognize fraudulent foreclosure rescue firms seeking to scam homeowners. Homeowners can access free counseling by calling 311 or visiting Center for NYC Neighborhoods Web site