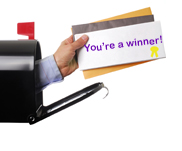 You're our lucky winner!

Don't get too excited unless you're holding an actual lottery ticket with the night's winning numbers. Sadly, if you receive this message by e-mail, chances are it's a scam. Learn how to spot and avoid these bogus winning offers.



Signs someone is trying to pull a "prize winning" scam:
They ask you to pay a small "fee" to claim your prize.
Legitimate lottery and sweepstakes administrators never charge fees before you receive the prize. If you send them money, you're probably never going to get it back.


They don't identify themselves properly.
Sponsors of legitimate contests identify themselves and provide you with contact information so that, if you ask, they can remove you from a mailing list.


You don't recognize the organization that's giving you the prize.
If you didn't enter a contest, how can you win? If the organization claiming to give you a prize doesn't sound familiar - don't reply to it.


You receive your winning notification via "bulk rate" mail or a "bulk" e-mail.
Scam artists usually send notifications to a large number of people in hopes of getting a few to fall for the scam. Legitimate organizations will send you notification of your winnings via certified mail that is personalized rather than a fake letter or e-mail that says, "Dear Winner."


They don't give you time to think about the offer/winnings.
Scam artists pressure you for an answer immediately, saying the offer will expire or go to another person if you don't act now. If it is a legitimate offer, the organization will give you time to consider the prize and not "rush" you into providing personal information or payments.



See a sample telephone "lotto" scam



Learn about the top five DCA consumer complaints

Learn about five common marketplace scams