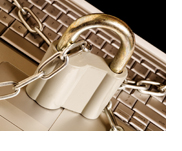 Passwords and PINs (Personal Identification Numbers) are intended to protect your accounts from being accessed by other people. If your password/PIN falls into the wrong hands, it could cause you a lot of trouble. Follow these tips to protect your password/PINs.






When creating your password and/or PIN, avoid using the following:
The word "password"

Your name

Your mother's maiden name

Your date of birth

Your pet's name

Your phone number (home, business or cell)

Your Social Security Number

The numbers "1234" or any consecutive sequence of numbers
Tips for safe password development and practice:
Try using a combination of letters (capitalized and lower case) and numbers.

Change your passwords frequently.

Avoid using the same password for everything. [It may be easy for you to remember, but it'll also make it easy for an identity thief to steal all of your information at once.]

Do not disclose your password to anyone.

When entering your password or PIN at an ATM location, check your surroundings to make sure no one is able to see you enter your information.

If you're going to write down your passwords, keep that information in a safe place. Never keep it in your wallet.

Learn about marketplace scams