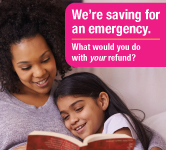 During the year, the government takes money from your paycheck in the form of taxes. At tax time, you may be eligible to claim certain tax credits. A nonrefundable tax credit will reduce the amount of taxes you owe the government. A refundable tax credit also reduces the amount of taxes you owe, but could result in a refund.

Learn more about specific tax credits for which you may be eligible and additional information about
                                               the City's Tax Credit Campaign.