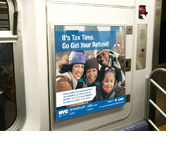 Since 2002, DCA has coordinated the City's campaign to increase the number of eligible New Yorkers claiming the Earned Income Tax Credit (EITC). New York City has assembled the most comprehensive Coalition in the country, combining the efforts of more than 250 partners to publicize the credit and to help New Yorkers file their taxes for free or at a low cost.


Public Awareness Campaign
Over the past 11 years, we have distributed tens of millions of pieces of EITC Campaign literature to City agencies, post offices, public libraries, schools, and others, and placed advertisements on the subways and buses, in bus shelters and phone kiosks, in McDonald's, and in dozens of newspapers, including community and ethnic media outlets, and on several television channels and radio stations.
Free Tax Preparation
At the City's free Volunteer Income Tax Assistance (VITA) sites New Yorkers have completed more than 650,000 returns, nearly 40% of which were EITC returns. Since 2002, the campaign has helped eligible New Yorkers collect nearly $20 billion in tax credit refunds.
DCA's Office of Financial Empowerment continues to lead the campaign as part of the City's aggressive efforts to fight poverty.
Working Together


The City's Tax Credit Campaign brings together businesses, City agencies, community groups, media partners, nonprofits, and unions. Our common cause: to use education, promotion, and free neighborhood-based tax assistance to broaden awareness about the EITC and other tax credits so eligible New Yorkers claim the money for which they qualify.
View a list of our partners


---

Tax Time Brochures
Download brochure in
English and Español (Spanish)
English and 中文 (Chinese)
English and Kreyòl Ayisyen (Haitian Creole)
English and 한국어 (Korean)
English and Русский (Russian)

PARTNERS: Request copies of the tax brochures and posters for distribution to your clients

---

Donate to the City's Tax Credit Campaign


The City's Tax Credit Campaign is supported in part by the Mayor's Fund to Advance New York City. The Mayor's Fund is a not-for-profit organization established to strengthen public programs with support from individuals, corporations, and foundations. As a 501(c)(3) public charity, donations to the Mayor's Fund are tax-deductible to the extent permitted by law.
Learn more about the FUND or make a contribution

---

New York Cares
New York Cares is recruiting Tax Prep volunteers to help clients file taxes at Volunteer Income Tax Assistance (VITA) sites.
Learn more on how to be a volunteer