Information for filing 2014 tax returns will be available mid-January 2015. Please check nyc.gov/taxprep for updates.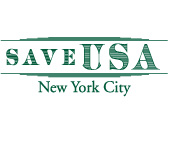 New York City's SaveUSA program offers an incentive to save at tax time. At select Volunteer Income Tax Assistance (VITA) sites throughout the City, you may have the opportunity to open a SaveUSA account when you file your taxes. Save at least $200 of your refund for a year and earn 50 cents for every $1 you save. Save $1,000 for the maximum $500 match.

The program is available on a first come, first served basis and while funds last.
Earn $53,000 or less if you have children

Earn $18,000 or less if you do not have children

Have a minimum refund of $200 and agree to save at least $200 in the account

Be 18 years of age or older

Provide two forms of identification and proof of address in addition to your tax documents

Open the account at the time you file your taxes at a participating site