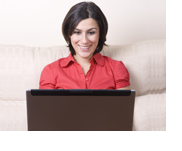 Your credit report is generally used by lenders, employers, landlords and other service providers to review your credit history. It represents your financial trustworthiness and affects your credit score, so it is important for you to know what goes into the report.





Four Parts of a Credit Report:
Personal information - this includes your name, past and current addresses, date of birth, Social Security number and past and current employers.





Credit history - this is the main section of your credit report. It has credit card and loan information, including your payment activity (how much you borrowed and whether you paid on time or not).





Inquiries - this section lists the people who have requested to see your credit report. You are able to prevent lenders and other people from accessing your credit report by placing a Security Freeze in your file.





Public records - this section includes information on bankruptcies, foreclosures, lawsuits, wage attachments, liens, judgments and debt information provided by debt collection agencies.
By checking your report for errors, you can prevent identity theft. Having a good credit report may lead to a good credit score and will help you apply for a loan or credit card more easily and at better rates.
You are entitled to one free credit report annually. Get your free credit report from one of the three credit reporting agencies today. Please note: Although you are entitled to a free credit report, a credit score is not free. Most companies will charge a fee for you to access your credit score.