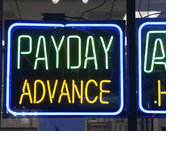 Payday loans are illegal in New York.

A payday loan is a high-interest loan borrowed against your next paycheck. In New York State, most payday loans are handled by phone or online. In order to apply for a payday loan, a borrower generally needs to have a checking account and proof of income.


If you receive an offer for a payday loan, please report it to the New York State Banking Department by calling 1-877-BANK-NYS (2265-697) or visiting www.banking.state.ny.us

If you are in need of cash, here are some alternatives to consider:
Learn more about Human Resources Administration (HRA) emergency assistance programs, including cash assistance, medical assistance, food stamps and job opportunities. Call 311 or visit www.nyc.gov/hra to learn more.
Look into a small loan from a credit union or bank. These loans usually have lower interest rates than a payday loan. Be sure to shop around to find the best offer for you.
Inquire about an advance from your employer.
Ask family or friends for a small loan.
A cash advance is sometimes available from your credit card provider. It may have a higher interest rate than a credit union or bank loan, but it's a lot cheaper than a payday loan. Be sure to compare all costs.

Money Worries? Speak with a free Financial Empowerment Center counselor to help you take control