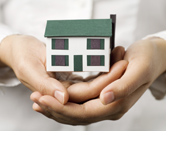 Thinking about buying a home or using your home as collateral for a loan?

Before you sign any papers for a mortgage (a secured loan) or a home equity loan, here are three tips to keep in mind:





Only borrow if you can repay.
Before getting a mortgage (borrowing money to buy a home) or taking out a loan with your home as collateral (home equity loan), be sure that you are able to pay back the loans according to the agreed repayment schedule, including the principal, interest, taxes, insurance and any assessment fees. Be sure you can make payments under the most expensive rate chargeable under the loan. This is important because the lender has the right to take your home away from you if you are unable to pay off your debt.


Know the different mortgage interest rates.
Types of mortgages:
Adjustable Rate Mortgage (ARM): Mortgage that has adjustable rates from the start, which means your payments change over time.
Fixed Rate Mortgage: The rate for this type of mortgage generally remains the same for the entire loan; the only change in your payment would result from changes in your taxes and insurance if you have an escrow account with your loan servicer.
Hybrid ARMs: Mortgage that has fixed payments for a specified amount of time (could be a few months or a few years depending on the loan agreement), then turns into an adjustable rate mortgage. Hybrid ARMs are represented by two numbers and usually are one of two types:

For one type, the first number refers to how many years the loan has a fixed rate and the second number refers to how many years the loan has an adjustable rate. For example, a 2/28 hybrid ARM means two years of a fixed rate and 28 years of an adjustable rate.
For another type of hybrid ARM, the first number refers to how many years the loan has a fixed rate, and the second number refers to how often the rate changes. For example, a 5/1 hybrid ARM means the interest rate is fixed for five years, then adjusts every year thereafter.


Warning: Many consumers have defaulted on Hybrid ARMs because their income is not suited for this type of arrangement.

Please note: When shopping for a mortgage, check if it is an interest-only loan, which means that the payments will go toward the interest due and not the principal. Some mortgages require that borrowers pay only the interest on the loan and not the principal until the loan matures (reaches a certain date). When the loan matures, the full principal is due.


Speak with a home buying counselor.
For most people, their home is their biggest asset. Prospective home buyers should be aware of common pitfalls and potential unethical practices. Seeking professional advice from a government-approved counseling agency makes good financial sense. Visit NYC Affordable Housing Resource Center to speak with someone from a City-approved counseling agency about what you should know before buying a home.

Additional Resources:
Free home-buying advice is available at the federal government's
Department of Housing and Urban Development Web site.
The City is working with a number of nonprofit groups to provide anti-
foreclosure assistance. To learn more, call 311.