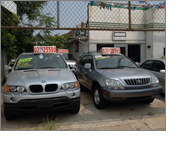 Thinking about buying a car?

Before you sign any papers for an auto loan, here are three tips to keep in mind:






Compare Interest Rates.
Many car dealerships offer their own auto loans to customers, but they may not offer the best rate. Research other lenders to see what types of rates are offered. If you have an account with a bank or credit union, see if they can offer you better loan rates because they are likely to offer good rates to their own customers.


Make sure you have final approval for the loan in writing.
Many auto loan lenders, especially those from the car dealerships, promise customers a great auto loan at low interest, but the offer usually only applies to people with high credit scores. Before buying a car, make sure you have the auto loan approved and in writing. "Pre-approved" means there is still a chance you might not get the loan at the rate discussed.


Avoid loan stacking.
Many people trade in their old car for a new one, but they still have a current car loan that hasn't been paid off entirely. If the old car's trade-in or resale value isn't enough to pay off the loan, a car dealer may offer you a "stacking loan" that pays off your old loan and finances your new car. This loan may seem helpful, but you are essentially taking out a larger loan for your new car. In the end, you are actually paying more than your new car is worth.

For example:


New Car Price:
Old Car Loan Remaining Balance:
Old Car Trade In-Value:
$12,000
$4,000
$1,500


You need a loan for $12,000 (new car) and $2,500 (what you still owe from old car loan), so you take out a loan that's $14,500 when your new car is only worth $12,000.
Get DCA's quick tips on buying a car