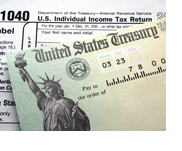 A Refund Anticipation Loan (commonly known as a RAL) is one of the five loans you should avoid 

A RAL is a high-interest loan usually offered by a tax preparer.  These so-called "instant" or "24-hour" refunds are actually loans that come with fees and interest that reduce the amount of any refund anticipation check.




Before you sign up for a RAL, here are three things you should know.

 


A Refund Anticipation Loan (RAL) is NOT a tax refund.
Many people think the check they get from their tax preparer is their tax refund.  This is false.  A RAL is a loan.  It is NOT an "instant refund."  The check you receive is less than your actual refund because of the fees that are deducted.  When you add up all of the fees (administrative and lending), it can amount to an annual interest rate of as much as 300%!


A RAL can damage your credit report.
If you do not get the tax refund amount you anticipated, you are still responsible for repaying the loan and any associated fees.  If you're unable to repay the lender (usually a bank), the bank will report the unpaid debt to a credit agency which will negatively affect your credit report.


You are not required to take out a RAL from your tax preparer.
Tax preparers' main responsibility is to prepare your taxes.  If they offer you a RAL, you can refuse to take out the loan.
During tax season, educate yourself about what to do before, during, and after filing your taxes in order to claim government tax credits and protect yourself from deceptive tax preparers.